This is the first in a series of posts this fall concerning redistricting in Wisconsin—a focus of the Law School's Lubar Center for Public Policy Research and Civic Education.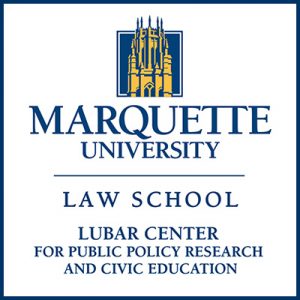 In a race against time to draw new district lines for local governments, three of Wisconsin's four largest counties are off to a slower-than-recommended start—a delay that could throw the state's three biggest cities behind schedule as well.
Perhaps not coincidentally, those three counties—Milwaukee, Dane, and Brown—are the same ones that have created independent advisory bodies to devise their supervisory district maps. That means they faced the added challenge of inventing a new redistricting process when their timeline was more compressed than ever before.
By contrast, the Waukesha County Board used its traditional process, working through a board committee, and approved a preliminary supervisory district map on September 14, one day ahead of the target date recommended by the Wisconsin Counties Association.
All of the state's counties and municipalities, along with the Racine Unified School District (RUSD), are under pressure to finish redistricting before December 1, when candidates can begin circulating nomination papers to run in the spring 2022 elections. If any of them miss that deadline, the legal consequences are uncertain.
Let's review how we got here.
Just as the Wisconsin Legislature must draw new maps for Assembly, state Senate, and U.S. House districts after every decennial census, counties must draw new supervisory maps; large and medium-sized cities must draw new aldermanic maps; the Milwaukee and Racine school boards must draw new maps for their members; and all municipalities must draw new ward maps. Adjusting ward lines is the only redistricting task for bodies that elect all of their board or council members at large, including villages, towns, small cities, and most school districts.
According to state law, the process starts with county boards creating tentative supervisory maps. Municipalities then use those supervisory maps to adjust lines for their wards—the voting units known as precincts in some other states. Those wards then become the building blocks to draw final supervisory lines, as well as districts for alderpersons, state legislators, U.S. representatives, and Milwaukee Public Schools (MPS) board members (and possibly RUSD board members, but more on that later).
That process, however, was designed for a normal redistricting cycle. This cycle has been anything but normal.
By federal law, detailed census data are supposed to be released for redistricting purposes no later than April 1 of the year after the census is conducted. This year, 2020 census data didn't reach local governments until August 16, slowed largely by factors related to the coronavirus pandemic.
Once the Census Bureau announced it would miss its federal statutory deadline and could release the data as late as September 30, it became clear that every county in Wisconsin would miss the state's statutory deadline of July 1 to produce their tentative supervisory maps, knocking the municipal governments off a timetable that by law gives them 60 days each to draw ward and aldermanic lines.
The counties association turned to the Republican-led Legislature for a solution. GOP legislative leaders responded by introducing a bill that would have pushed the redistricting timetable into next year, allowing the 2022 local elections to proceed under current maps. The counties association, the League of Wisconsin Municipalities, the Wisconsin Towns Association, and the Wisconsin County Clerks Association supported the legislation.
But some saw the solution as worse than the original problem. One of the biggest concerns was that the new census data would show current districts out of compliance with the "one person, one vote" rule established by U.S. Supreme Court decisions, opening the way for legal challenges to using outdated maps for 2022 elections.
"I'd be shocked if there wasn't a lawsuit," Dane County Clerk Scott McDonell told a Senate  committee this past June, as reported by the Milwaukee Journal Sentinel.
The bill also would have set separate schedules for county and municipal redistricting and would have allowed both local and state redistricting to proceed before ward lines were redrawn, with municipalities adjusting ward maps afterward.
That was an echo of 2011, when the Legislature sidelined local governments so that it could rush through its own legislative and congressional maps. Democrats suspected the bill was a political ploy to again enable GOP gerrymandering, while the Wisconsin Municipal Clerks Association said it would add too much work for its members.
"They will effectively be forcing our overworked and understaffed [municipal] clerks to redo their work just so the Legislature can gerrymander," Milwaukee County Clerk George Christenson and his predecessor, Supervisor Joe Czarnezki, said of lawmakers, in a joint statement. "It is undemocratic and must be stopped at all costs."
Curt Witynski, deputy executive director of the League of Wisconsin Municipalities, said in an interview that he believed the ward issue could have been straightened out. But Gov. Tony Evers, a Democrat, vetoed the bill, citing constitutional objections to using outdated maps.
That put the pressure back on local governments to finish maps in time for spring elections, when every Wisconsin county board seat will be at stake.
Although some cities—notably Milwaukee and Madison—don't have any common council elections scheduled for 2022, they still face the same redistricting deadline as Green Bay, Kenosha, Racine, and other cities that elect alderpersons next spring. Ward maps must be completed for use in drawing final supervisory, legislative, and congressional districts, and sometimes decisions about ward lines are connected to the shape of aldermanic districts, explained Ben Zellers, a Madison city planner, and Keith Broadnax, manager of Milwaukee's Legislative Reference Bureau.
With that in mind, the counties association and the municipalities league recommended a timetable for local governments to finish redistricting by November 23, about a week before spring 2022 candidates can start circulating nominating petitions.
Here's where that process stands in the state's four biggest counties and in the two school districts affected by redistricting:
Milwaukee County: County Board Chair Marcellia Nicholson appointed six retired judges to serve on the county's Independent Redistricting Committee: former Circuit Judges Jean DiMotto, Charles Kahn Jr., Frederick Kessler, and Mary Kuhnmuench; former U.S. District Judge Charles Clevert Jr.; and former Milwaukee Municipal Judge James Gramling Jr. Kessler is a former Democratic state legislator with an extensive background of advocacy and consulting on redistricting issues.
Led by DiMotto, the panel has reviewed several maps drafted by the Southeastern Wisconsin Regional Planning Commission's staff. Members requested revisions in light of the Voting Rights Act and to ensure at least two of the 18 districts are dominated by Hispanic voters, reflecting that group's growing share of the county population, DiMotto said in an interview.
But the panel missed its Sept. 15 target date for the board to approve a map. Instead, it set a public hearing for Sept. 23 — just hours after the board's regular monthly meeting — and recommended a map then. Nicholson has called a special board meeting for Oct. 1 to vote on the map.
DiMotto said she believes her committee will complete its work, but she can't speak for the board. The delay already has caused anxiety at City Hall, where Ald. Ashanti Hamilton said it would jeopardize the likelihood of the council's meeting its goals of finishing action on wards by October 18 and on aldermanic districts by November 10. Both dates were recommended by the local government associations.
The county committee now will turn to drawing ward lines for the villages of Brown Deer, Fox Point, River Hills, Shorewood and Whitefish Bay, and drawing both aldermanic and ward boundaries for the cities of Glendale, South Milwaukee and Wauwatosa.
Dane County: Wisconsin's second-largest county is marching to its own tune, following a different schedule from the one the local government associations recommend. Its 11-member Redistricting Commission plans to vote September 30 on three maps to submit to the Dane County Board, for action October 14. The county then expects its municipalities to adopt ward plans by November 5 and aldermanic districts by November 18, although Madison's goal is to act on both November 2.
Brown County: A seven-member citizens advisory committee recommended six maps to the Brown County Board on September 16. But the board rejected all of them on September 20, then voted on September 22 to approve a new map drawn by county planners. Supervisors said the committee's maps didn't respect municipal boundaries in the Green Bay area, but the board-approved map came under fire for allowing significant population differences between districts and for intentionally protecting incumbents.
Waukesha County: Following its county board's September 14 approval of a tentative supervisory map, Waukesha County wants its municipalities to complete action on ward lines by October 18, with a board vote on a final supervisory map November 9. The latter date is one day ahead of the November 10 deadline recommended by the counties association.
MPS: State law calls for the MPS board to redraw its district lines within 60 days after the Common Council adopts aldermanic districts. The board is expected to discuss its redistricting process in October, assistant board clerk Jillain Kawala said in an email. No MPS board members are up for election next spring.
RUSD: The Racine board has established an advisory committee of citizens to devise its map. This will be the first time RUSD board districts are revised since the Legislature shifted the board away from at-large elections in 2015, and the process differs in two significant ways from the rest of the state.
First, the law governing RUSD redistricting doesn't refer to wards and says the board should redraw its lines using census blocks—the way the Legislature redistricted itself in 2011—within 60 days after census data is available. That would be mid-October. However, Board President Brian O'Connor said he believes using wards would be "best practice," to coordinate with the multiple communities within the school district.
That could increase the pressure to meet another deadline: Unlike local governments, state law says the board must adopt a new map by November 1 or use the current map for the spring 2022 election, when four of the board's nine seats will be at stake. If ward lines aren't done until mid-October, the board and its advisory committee will have just two weeks to act.
"I'm worried" about finishing on time, O'Connor said in an interview. "I don't know if we can meet that deadline."
Asked whether the board could face a legal challenge either way—if it draws new maps under a timeline that differs from state law or if it holds elections with old maps that don't reflect population changes—O'Connor declined to offer a prediction.
He did allow, however, "We live in a litigious era."