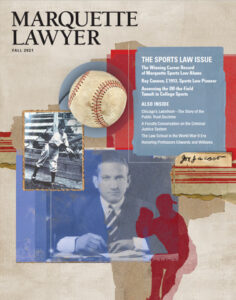 Past, present, and future. Look to all three in judging the success of any higher education program. Consider the Fall 2021 issue of Marquette Lawyer magazine as a way of putting the Marquette Law School's sports law program up to judgment in just those ways—and we're not shy about saying the verdict is strongly favorable. Marquette has been breaking ground in sports law for decades, it continues to be a leader, and the future of our students is promising.
The new magazine, titled "The Sports Law Issue," looks to the past with a profile of Ray Cannon, from the Law School class of 1913, who became a pioneer of sports law in the United States. The fascinating story is written by Cannon's grandson Thomas G. Cannon, a former professor at Marquette Law School. It describes Ray Cannon's legal work on behalf of famed athletes such as Jack Dempsey, the world heavyweight champion boxer; "Shoeless Joe" Jackson, a baseball star who was accused (wrongly, it would seem) of accepting money to throw the 1919 World Series; and Red Grange, whom some consider the greatest college football player of all time. Ray Cannon was also involved in early efforts to form an association of baseball players to help them deal with team owners. The story may be read by clicking here.
The magazine looks to the present with profiles of 14 Marquette lawyers who participated in the sports law program while in law school. They have gone on to successful careers, variously in sports and in broader fields of law. Included are some of the Marquette lawyers working for major sports franchises, teaching college courses, handling the legal needs of college sports programs, working in the business world, representing private clients, leading private businesses, and developing nonprofit organizations.
And the magazine looks to the future with profiles of six students now in the sports law program and on track for legal careers.
"A Winning Record," the story profiling the alumni and the current students, may be read by clicking here.
The fourth leg of a tableful of sports law content offers insights into the changing, tumultuous world of college sports from four Marquette experts: Bill Scholl, Marquette University's director of athletics and vice president; Matt Mitten, professor of law and executive director of the National Sports Law Institute at Marquette Law School; Paul M. Anderson, director of Marquette's National Sports Law Institute; and Vada Waters Lindsey, professor of law and member of the National Sports Law Institute Board of Advisors. "Unpredictable and Stormy, with Some Hope for Improvement," an edited transcript of the roundtable discussion with the four, may be read by clicking here.
Changing topics: How did Chicago's lakefront become a national jewel, offering large park areas and major cultural assets? It happened through a complex series of events that centered in important ways on the law and legal action. One important phenomenon—perhaps less of a cause than a result itself—is the public trust doctrine. Joseph D. Kearney, dean and professor of law at Marquette University, and Thomas W. Merrill, Charles Evans Hughes Professor of Law at Columbia University, collaborated during more than 20 years to produce the book, Lakefront: Public Trust and Private Rights in Chicago, which chronicles and assesses the history of how the lakefront came to be what it is. Five blog posts by Kearney and Merrill for The Volokh Conspiracy set forth some of the public trust doctrine aspects of the book and are reprinted in the magazine, together with some illuminating illustrations. They may be read by clicking here.
Recent issues of Marquette Lawyer featured prominent scholars who offered perspectives on the criminal justice system nationwide. The new magazine turns to the "home team," with Marquette law professors giving their perspectives on how effective (and sometimes ineffective) the justice system is, especially in handling day-to-day matters. The four professors are Daniel D. Blinka, Edward A. Fallone, Michael M. O'Hear, and Andrea K. Schneider. An edited transcript of a conversation with them, titled "Too Slow, Too Big, Too Heavy-Handed," may be found by clicking here.
At the yearend gathering of editors and members of the Marquette Law Review on April 9, 2021, Dean Kearney spoke about the way the Law Review staff met the challenges of the pandemic year when work conditions were constraining. He also looked back to the success of how students met the challenges of putting out the law review during World War II. That brought to mind pieces written about the World War II era at the Law School by the late Professor J. Gordon Hylton, posted over the years on the Marquette Law School Faculty Blog. "Pandemic (or War) Not Withstanding," offering both the text of Kearney's remarks and edited versions of several of the Hylton blog items, may be read by clicking here.
The careers of Professor Carolyn M. Edwards and Professor Phoebe Weaver Williams, L'81, now both emeritae, were honored in a ceremony on April 14, 2021, at which portraits of each of them were unveiled. The portraits now hang prominently on the third floor of Eckstein Hall. Remarks at the ceremony by Dean Kearney, Professor Judith G. McMullen, John Rothstein, L'79, Professor Vada Waters Lindsey, Kate McChrystal, L'10, Marquette Provost Kimo Ah Yun, and Professors Edwards and Williams may be read by clicking here.
Class Notes, highlighting accomplishments and career steps by Marquette lawyers, may be read by clicking here.
To end somewhat where we began: In his introductory column, Dean Kearney reflects on how the pandemic period has limited ways of meeting people. One valuable if imperfect way of accounting for this is by meeting people featured in print, including in this magazine. The column, "Meeting People in a Pandemic," may be read by clicking here, and may be of interest for the alternative sports-law-related cover that it wryly depicts.
The full magazine, together with past issues, is available by clicking here.