"We need a child-centric society. We were revealed to be not a child-centric society."
That was the way Anya Kamenetz summed up her perspective on how the United States as a whole dealt with the COVID-19 pandemic since March 2020, and especially its broad negative impacts on children.
If we were a child-centric society, the needs of children all over the country would have been addressed far better, not only in terms of health-related policy, but in terms of the social, emotional, and general developmental needs of parents while dealing with COVID, Kamenetz said.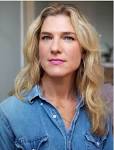 Kamenetz, a former education reporter for National Public Radio, assesses the impact of the pandemic period on children in a new book, The Stolen Year: How COVID Changed Children's Lives, and Where we Go Now. And she talked about the pandemic and children in an "On the Issues" program at Marquette Law School's Eckstein Hall on Oct. 24.
Kamenetz described the many negative ways the pandemic impacted children, largely because many schools were kept from operating in-person for so long and support for children and families on multiple fronts was not adequate. She contrasted the way the US handled the pandemic – with confusing messaging, disunified politics, and conflicting priorities that often emphasized the needs of adults — with the way many countries, particularly in Europe, handled the unprecedented period.
In many places, keeping schools open was considered more important than keeping restaurants or entertainment venues open, while in the US the practice was often the opposite, she said. Countries were able to keep schools open with precautions and general public support, and there were lower death rates and fewer damaging impacts on children.
"Could we have opened schools safely and would open schools have provided necessary services that would have made children's lives better? I think so," she said.    
Kamenetz said long-standing inequities involving children were exacerbated by the way many places dealt with the pandemic, leaving low-income and minority children vulnerable to larger setbacks educationally and socially than children from more affluent circumstances. Even without factoring in the pandemic, "it's very hard for a segregated school system to produce equitable outcomes," she said. The pandemic is "almost like a footnote" in affecting these inequitable trends.
In her book, Kamenetz wrote that some, and likely most, kids will put COVID and its impacts behind them. "But they all had something taken from them," she wrote.
In the Law School program, Kamenetz said there are different kinds of resiliency when it comes to children. She compared the impact of someone walking on grass to the impact of a storm breaking off branches of trees. The grass will get bent down but rebound to look the same as before. The trees may return to healthy growth and survive for long periods, but the damage from the broken branches will remain. The kind of resiliency of most children is more like those trees than the grass, she said.
"There are ways to foster post-traumatic growth," she said, encouraging policies that, to use her term, would make the US more child-centric. She added, "No child is doomed, no matter how hard a time they had during the pandemic."
Video of the program with Kamenetz may be viewed by clicking here.