You are the general counsel of a large corporation. Your company is involved in negotiations to buy a competitor and there are layers upon layers of complexity and risk. Is a lawsuit against the competitor a deal-killer or no big deal? Why is a key employee of the other company about to bolt for a third company? Business for your own company has been slipping. Do you need this deal to save your company or will the deal wreck what you do have? The questions—and the pressure—build.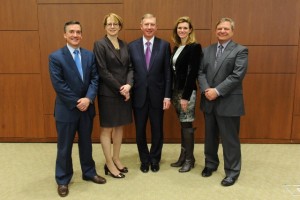 Paul Dacier, L'83, outlined the scenario before a capacity audience in the Appellate Courtroom of Eckstein Hall on Feb. 20, and as he did so, he asked members of the audience how they would handle each step.
As Dacier's story comes to a head: The CEO calls you into his office. "It's just the two of you in the room and the CEO is sweating bullets," Dacier says. He wants to know what you as general counsel recommend.
And that is the main point of Dacier's narrative—when you find yourself in a spot such as that, you had better be ready to respond well, not only as a lawyer but as a trusted advisor who has a grasp of the situation and the confidence and knowledge to handle it well. You are a lawyer—but you also are a key player in helping the company achieve its goals.
At the end of the story, Dacier outlined the extent to which it closely followed a dramatic series of events involving his own employer, EMC, a multinational corporation based in Massachusetts and specializing in computer data storage. Dacier is the executive vice president and general counsel of ECM. Let us just say here that the story ended well.
The audience was made up of lawyers, many involved in corporate legal work. The seminar at which he spoke featured five general counsel for large corporations, each of them a Marquette lawyer.
Frank Steeves, L'79, executive vice president, general counsel, and secretary of Emerson, a St. Louis-based corporation with 140,000 employees in 152 countries, opened the morning with a presentation on how the globalization of business had brought a globalization of law. Steeves differentiated between international law, such as multination treaties, and the globalization of law, which involves the rapidly expanding ways that corporate lawyers are helping their companies do business around the world.
The issues involved can cover almost anything that a smaller company did in prior times—contracts, intellectual property rights, dispute resolution, and so on—but that they are now being doing on a global basis, Steeves said. In many cases, Steeves said, contracts and procedures involving international corporations have emerged as global law.
The trend toward globalization of law won't stop, for the forces driving it are only increasing, Steeves said. In most ways, he said, it is easier to conduct business in other countries than ever before. The future of global legal work offers "unprecedented opportunities," in his estimation. The future belongs to those who see connections and solutions and who have the courage to shed preconceptions of legal practice. Whether you are working in Wauwatosa or Paris, Steeves said, "It's a global game."
In a panel discussion titled, "Important Best Practices—The Latest Thinking," Steeves and Dacier were joined by Ray Manista, L'90, senior vice president–general counsel and secretary of Northwestern Mutual; Cari Logemann, L'94, senior vice president and general counsel of Aspirus, a health industry company based in Wausau, Wis.; and Julie Van Straten, L'94, of Green Bay, who recently retired as vice president and general counsel of United Healthcare Individual Line of Business.
Among the pieces of advice they offered:
Van Straten: Just saying "no" to a question is not good. Your goal as general counsel is to figure out how the company can get things done. One of the most important things you can do is to "keep a calmness in the room."
Logemann: You need to be creative and flexible and you need to know the industry as a whole.
Dacier: "You can never, ever go with the individual. You go with the company."
Manista: One of the most valuable services you can offer is to distill issues to a point where the key aspects are clear to executives. "Plain-spoken advice—they want that."
Steeves: Don't offer any written material that has footnotes and uses acronyms. Be concise and brief. Clear communication really matters.