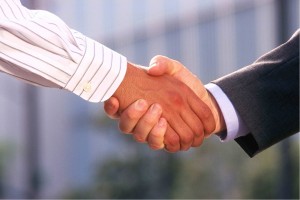 My list is constantly evolving; however, these ten tips form the foundation of my negotiating strategy and approach.
10. Research. When a new deal comes my way, I do research on who is on the other side of the negotiations. If you are able to find some common ground or interests, you can use some piece of information to start the negotiations in a non-adversarial manner. Knowing something about an alma mater, a law firm, or another part of their business can strike up an interesting aside before the heavy lifting starts.
9. What is your leverage? Look at the negotiation from the other side. It is great when one party can say, "take it or leave it" and really mean it; however, in my experience that is often a rarity. Strength in negotiation comes from knowing what may cause the other side to move on a position. Use that knowledge to best advance your position without being unnecessarily aggressive.

8. Be precise and exact. Whether you are looking at a two-page simple purchase order or a complicated multi-part AIA standard form agreement, there are always key words that can change the entire meaning of the contract. A simple change to indemnity, insurance or liability might be all it takes to help your position.
7. Take your time. There will be days when a "rush" job is necessary because of circumstances beyond your control; notwithstanding, do your best to review twice. Mistakes can cost your client and make potential issues even more complex.
6. Use your support team. Unless you are an expert in everything legal, make sure to utilize all the tools at your disposal. Get your insurance agents, risk managers, safety, financial or operations experts involved early and before negotiations start. Bringing new issues to the table after intense business negotiations have started can sour the deal.
5. Enjoy making the sausage. Everyone loves to eat sausage; however, no one wants to watch it being made. At times, the negotiations are tenuous and stressful, but enjoy your part in getting the deal done.
4. Be bold. There are times when a new theory or interpretation of language may be just what is needed to move a deal forward. To challenge the status quo or find the right moment to push a position is important to understand. Knowing the right time to be unflinching is an art.
3. Listen. The more you listen, the more you learn. The more you know about the other party's position or interests, the more likely you will be able to find a solution or draft a clause that fits both interests.
2. Check your ego at the door. Approach every deal or negotiation with the highest level of integrity. You may get away with puffery or bluster on one deal; however, most of us have good memories and many times your reputation will proceed you.
1. Always know when to walk away. Know your client's limits. When you know what will make your client walk, you can use that information to steer the negotiations to success.