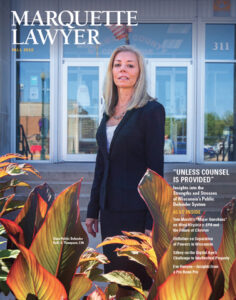 It is nearly 60 years since the Supreme Court of the United States unanimously held, in Gideon v. Wainwright (1963), that individuals facing criminal charges are constitutionally entitled to representation by lawyers. And it has been just over 20 years since the death of Marquette Law School Dean Howard B. Eisenberg, who, early in his career, was a central figure in Wisconsin's effort to comply with Gideon—in designing the state's system for providing publicly funded representation for defendants unable to afford an attorney.
The cover package of the Fall 2022 issue of Marquette Lawyer magazine examines how Wisconsin's system works today.
This means, in particular, an article profiling the work lives of five current Wisconsin public defenders. The piece includes the context of their work in a system that serves tens of thousands of defendants annually even while it is under constant stress—a system where needs outstrip available staff and resources.
There is no question of the dedication and ability of Wisconsin's public defenders, as exemplified by the five lawyers profiled: the state public defender herself (the boss), Kelli S. Thompson, L'96; Rick Jones, L'89; Jade Hall, L'19; Luis Gutierrez, L'20; and Thomas Reed. The last of them, Reed, is Thompson's top deputy in Milwaukee and has particular insights not only from his ongoing career of 40 years but as an adjunct professor at Marquette Law School.
Beyond the profiles, the article also sheds light in sidebars and charts on the broad issues involving the public defender system.
The article is inspired in part by the memory of the late Dean Eisenberg. It closes by recalling three essays from the memorial issue of the Marquette Law Review in 2002 that capture Eisenberg's professional accomplishments and personal style as Wisconsin's state public defender in the 1970s. Most generally, Eisenberg embraced, and embodied a deep lifelong commitment to, the Deuteronomic phrase, "Justice, justice shalt thou pursue."
The package may be read by clicking here. 
The new Marquette Lawyer next features "Questions of Intellectual Property and Fundamental Values in the Digital Age." This is an essay form of the Law School's annual Nies Lecture on Intellectual Property, delivered by Jessica Silbey, professor of law at Boston University School of Law, last April. Click here to read Professor Silbey's piece.
The state of flux around separation of powers under the U.S. and Wisconsin Constitutions is then examined in two provocative articles. "The legal ground is shifting in the law of separation of powers," as the introduction to the two articles says.
In a question-and-answer format, Chad M. Oldfather, professor of law at Marquette University, looks at the impact of recent Wisconsin Supreme Court decisions in a piece headlined, "The Potential for Unintended Consequences Is Huge."
And in five short essays, originally published at the Volokh Conspiracy blog, Thomas W. Merrill, Charles Evans Hughes Professor of Law at Columbia University, critically examines a June 2022 U.S. Supreme Court decision, West Virginia v. EPA. The decision enshrines the "major questions" doctrine concerning the authority of federal administrative agencies and reflects the Court's continuing discomfort with its landmark decision in Chevron U.S.A. Inc. v. Natural Resources Defense Council, Inc. (1984).
The Oldfather and Merrill articles, along with the introduction to the two, may be read by clicking here.
Marquette Law School's annual Posner Pro Bono Exchange program, at Eckstein Hall on April 22, 2022, featured a conversation between Mike Gousha, the Law School's senior advisor in law and public policy, and Eve Runyon, CEO and president of the Pro Bono Institute, a nonprofit organization based in Washington, D.C. Runyon described how she became involved in pro bono work and the work of the institute, and she urged law students to make pro bono work part of their careers. The Posner Exchange introduced the ceremony recognizing 139 Marquette law students for their pro bono volunteer involvements. "Insight from a Pro Bono Pro," an edited text of the conversation with Runyon, may be read by clicking here.
In his column, titled "Letting Time Hang Heavy on Our Hands," Dean Joseph D. Kearney muses on the value of a magazine such as Marquette Lawyer. The column may be  read by clicking here.
Finally, the Class Notes pages describe recent accomplishments of more than 40 Marquette lawyers and may be read by clicking here.
The full magazine may be read by clicking here.