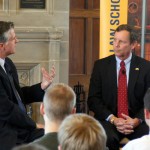 Mark Neumann is not Lee Dreyfus, but if Neumann is going to be elected governor of Wisconsin this year, it's going to be by capitalizing on much of the appeal that Dreyfus had in 1978 as a Republican who was glad to say that he was not versed in the ways of Madison's state capitol.
Neumann invoked his standing as a businessman who is not a professional politician often in an "On the Issues with Mike Gousha" session at Marquette University Law School last week.
Neumann is regarded widely as the underdog in the race for the Republican nomination for governor, with Milwaukee County Executive Scott Walker the favorite. The winner is expected to face Milwaukee Mayor Tom Barrett, the only major candidate for the Democratic nomination, in the November final election.
In answering questions from the audience and from Gousha, the Law School's distinguished fellow in law and public policy, Neumann did not take much issue with Walker on policy. Both strongly oppose the high-speed rail project proposed for Chicago to Milwaukee to Madison, both have strongly criticized the new national health insurance law, and both advocate holding down taxes and cutting state regulatory requirements on businesses. Continue reading "Neumann the Outsider"