This past weekend, I attended the annual Milwaukee Mighty Con, a local comic convention.  While there, I watched one of the cosplay competitions where competitors dressed in fantastical recreations of iconic characters such as Star Wars' Kylo Ren.  Yet while observing the competition and enjoying the efforts of the competitors, I pondered the legal implications of these derivative works.
But first, a little back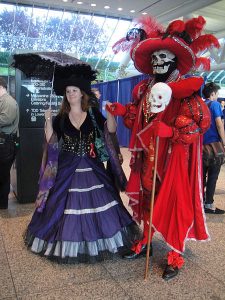 ground information is in order.  The term "cosplay" was created by Takahashi Nobuyuki in 1984. Nobuyuki attended a science fiction convention in Los Angeles, and he was so impressed with the fans' costume competition that he wrote about his experiences upon returning to Japan. Yet, no word in the Japanese language accurately represented the costume competition Nobuyuki saw. To remedy this predicament, Nobuyuki combined the Japanese equivalents of "costume" and "play" to describe what he saw.  This created the word "kosupure," which in English roughly translates into cosplay. Today, this term universally refers to a fan's wearing of costumes, props, and accessories to represent a character often originating from video games, comics, movies, and TV shows.  By extension, the individual who imitates the character is known as a cosplayer. Now, some cosplayers, like the competitors at Milwaukee Mighty Con, can have a monetary benefit from winning cosplay competitions.  Such monetary gains naturally bring up concerns regarding the copyrights and trademarks on the imitated characters.
Continue reading "Cosplay Wars: The Legal Implications of Fan Costume Competitions"