As we said our goodbyes to Yad Vashem, we headed towards the beautiful Israeli Supreme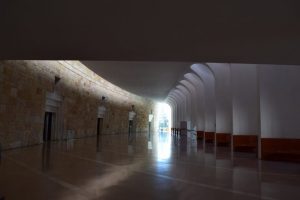 Court to hear from former Chief Justice Asher Dan Grunis. Justice Grunis spoke to the students about the differences between the U.S. Supreme Court and the Israeli Supreme Court.  The comparison in the annual caseload (about 70 cases in the U.S. versus 15,000 cases in Israel!) really stood out for the students.  The court have 15 justices that generally sit in panels of three to hear the cases.
After driving up north, we ended the day with a speech from Adam Waddell from Eco-Peace. Eco peace is an NGO that works to facilitate peace talks and promote sustainable development between the Jordanian, Palestinian, and Israeli governments. Aurusa Kabani shared her thoughts about this NGO.
Continue reading "Israel Reflections 2019 – Supreme Court and Eco Peace"