This is the third part of a three-part series on Women in Wisconsin Law.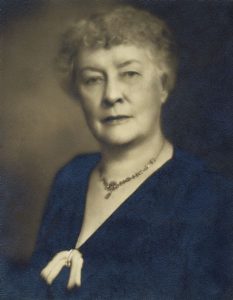 Not all women who were influential in Wisconsin law were lawyers. Among these influential women was Jessie Jack Hooper, a suffragist and politician who made history by running for one of Wisconsin's seats in the United States Senate in 1922.
Jessie Jack Hooper was born on a farm in Iowa in 1865. In 1888, she married Ben Hooper and moved to Oshkosh, Wisconsin, to begin a new chapter of her life. Mr. Hooper, a graduate from Columbia University Law School, was extremely supportive of his wife's passion for the women's suffrage movement. Even before women were given the right to vote, Mr. Hooper went to great lengths to share his right to vote with his wife. One year he would vote as he saw fit, and then the next year, he would vote according to his wife's wishes.
Once in Oshkosh, Hooper joined a variety of progressive movements in the state, including the Women's Club and the Wisconsin Federation of Women's Clubs. Although she was active in a variety of organizations, she was primarily involved in the women's suffrage movement as a member of the executive board of the National American Woman's Suffrage Association.