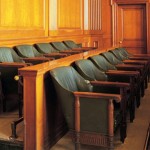 Last month, the Equal Justice Initiative (EJI) released a study, "Illegal Racial Discrimination in Jury Selection: A Continuing Legacy," which revealed a prevalence of racial bias in jury selection in the South.  The report stands as the most comprehensive study of racial discrimination in jury selection since 1986, when the US Supreme Court sought to limit the practice in the landmark case Batson v. Kentucky.
Racial discrimination in jury selection first became illegal when Congress passed the Civil Rights Act of 1875.  Despite federal legislation, people of color continue to be excluded from jury service because of their race, especially in serious criminal trials and death penalty cases.
Evidence suggests the phenomenon persists through the use of peremptory challenges.  A peremptory challenge essentially provides attorneys the ability to exclude a certain number of potential jurors without explanation of their removal.