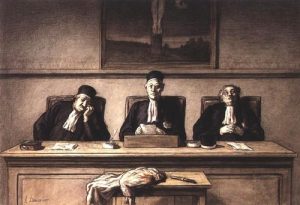 Yesterday's oral argument in Beckles v. United States found the justices wrestling with retroactivity and vagueness in the context of the U.S. Sentencing Guidelines. The petitioner, Travis Beckles, questioned the constitutionality of the residual clause of the career-offender provision in Section 4B1.2 of the guidelines after the Supreme Court, in Johnson v. United States, found an identically worded residual clause in the Armed Career Criminal Act to be unconstitutionally vague. Beckles asked the court to rule first on whether a favorable ruling on the constitutional question – on which he and the government agree — would be retroactive on collateral review. Even if the court were to find in favor of Beckles on both counts, he could still lose because of a unique interplay between the career-offender guideline and the guideline commentary, which specifically declared his offense – possession of a sawed-off shotgun – to be a crime of violence.
With her opening question, Justice Ruth Bader Ginsburg forced Janice Bergmann, representing Beckles, to focus on the third issue in the case: the relationship between the guidelines' residual clause and the commentary, which specifically listed Beckles' offense of conviction as a crime of violence. A number of justices took issue with Bergmann's assertion that the commentary cannot define "shapeless" language, a term taken from Johnson. After all, they noted, the guideline commentary, at least in part, interpreted the residual clause, presumably providing meaning in that manner. They also questioned whether the commission was not in the best position to clarify its own language. Bergmann responded that the guideline language was not the commission's, but rather was drawn from the ACCA residual clause. Any interpretation and examples offered by the commission, she argued, would therefore be arbitrary.
Justice Samuel Alito was the first to direct the argument to the question of what vagueness would mean in a guideline-free world. Along with Justice Stephen Breyer, Alito reminded Bergmann that pre-guideline sentencing appears substantially more vague and arbitrary than the residual clause, as do many of the current guideline provisions. In response, Bergmann asserted that the guideline residual clause is unique among those provisions because of its identity with the ACCA residual clause, and that it shares the same characteristics embodied in the categorical approach that ultimately caused the court to declare the ACCA provision void for vagueness.
Chief Justice John Roberts and Justice Anthony Kennedy continued along similar lines by pointing to the decrease in vagueness any guideline, even a vague one, would provide as compared to the previous system of discretionary sentencing. Why, they asked, should greater precision lead to greater vagueness? (more…)