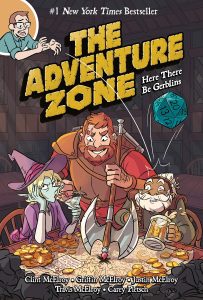 Justin, Travis, and Griffin McElroy have built a podcast empire on being wholesome good guys. They come off to their fans as three brothers who are down-to-Earth, goofy, and will never do anything to hurt people. This has connected with podcast listeners worldwide, helping them build a massive fan base.
But at some point, businesspeople and celebrities make mistakes. For the McElroys, this mistake has come in the form of them trying to find ways to make money off the success of their podcasts. Prior to 2018, the McElroys had sold merch for their podcasts, gone on tours to do live recordings of podcasts, and had a brief TV adaptation of the podcast "My Brother, My Brother and Me" on the failed streaming platform Seeso, which was owned by NBCUniversal.
Then came the graphic novel adaptation of "The Adventure Zone," which shot to the top of the New York Times bestseller's list. The graphic novel, while illustrated by Casey Pietsch, features a gallery of fan art at the back of every volume. Given the relationship the McElroys have with their fans, it seems reasonable they would pay tribute to the fans and the artwork they create by including a gallery of artwork tied to the events of that volume.
This fan art gallery has become the center of a bit of controversy in recent weeks.