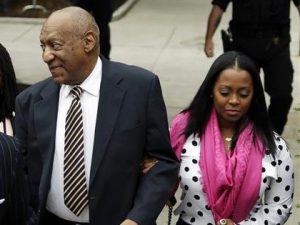 Bill Cosby has made two distinctly different splashes in American popular culture.  He starred in "The Cosby Show" (1984-92), a sitcom that was America's most highly rated television show for five consecutive years.  Then, his trial for sexual assault in the spring of 2017 became the most recent "trial of the century."  Ironically, the immense success of the former prevented the latter from attracting the attention many had predicted.
As for "The Cosby Show," it featured the Huxtables, a fictional upper middle-class African American family living in a brownstone in Brooklyn Heights.  Cliff Huxtable, played by Cosby, was a jolly obstetrician, while his wife Clair Huxtable was a successful attorney.  The Huxtables has four daughters and one son, and although each episode had its tender tensions, they always dissipated by the end of the hour.  "The Cosby Show" was about a happy, loving ideal family, and Cliff Huxtable became the nation's fantasy father.  When TV Guide ranked the 50 greatest dads in television history, the magazine named Cliff Huxtable "The All-Time Greatest Dad."
While the show rarely addressed race directly, it was what the show left unsaid that was important.  Cosby and the show's producers consciously set out to "recode blackness."  They turned stereotypes upside-down by presenting a tightly-knit African American family that was affluent, had friends and neighbors of different races, and was headed by a married couple, with each member belonging to a learned profession.  In the midst of the Reagan-Bush years, Americans took to the portrayal, and it, if only for a moment, obfuscated the nation's shoddy racist inequality.
When twenty-five years later in time two dozen women claimed Cosby had drugged, sexually assaulted, and raped them, America was shocked.  When Cosby went on trial in the spring of 2017 for sexually assaulting Andrea Constand, many thought the public would be obsessed with the proceedings.  Coverage of the trial seemed likely to equal that for celebrities such as O.J. Simpson in 1994 and Michael Jackson in 2005.  Trials of the rich and famous, after all, have been pop cultural delights since the days of the penny dailies in the early nineteenth century.