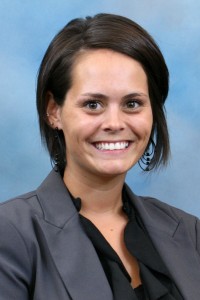 The 21st Annual Howard B. Eisenberg Do-Gooders' Auction on behalf of the Law School's Public Interest Law Society (PILS) will be held in the evening on Friday, February 21, 2014 at the Law School.  Proceeds from the event go to support PILS fellowships to enable Marquette law students to do public interest work in the summer.  Trisha Fritz, a current law student, shares her experience here as a PILS Fellow.  Besides her work as a PILS Fellow, Trisha is helping to organize this year's Auction.
You may attend the Auction by purchasing tickets here, or you may purchase tickets at the door.  This link also provides you with an option to donate to the Auction.
Where did you work as a PILS Fellow?
I worked at the Milwaukee County Public Defender's Office in the Juvenile and Mental Health Office located in Wauwatosa.
What kind of work did you do there?
I mainly worked with Juveniles involved in Juvenile Delinquency cases. The office also handles CHIPS, TPR, JIPS, and Mental Health Commitment cases, and I was able to dapple in those areas, but I mainly worked with Delinquency cases. All of the Juveniles that come through the delinquency system have a state public defender assigned to their case. My role was to interview clients and families and continue to handle their cases at various stages through the criminal process. I was able to practice under the student practice rule where I was able to handle all delinquency hearings from the initial detention hearing to disposition hearing (sentencing in the juvenile system).
How was the experience meaningful to you?
The experience was meaningful for me because I was able to prepare for and handle hearings on the record, which was a legal experience that is like no other I experienced in law school. More importantly, the experience was meaningful for me because I felt like I was actually helping a community of people (juveniles and their families) through a process that is often confusing, sad, and can have great consequences for their future.
What did you learn in the course of your work?
I was lucky to have the supervising attorney I did (Attorney Paul Rifelj), because he involved me in every aspect of his case load. I learned how to interview clients and how to interview juveniles, which I have learned is a very different skill than interviewing adult clients. I learned about the importance of establishing relationships in the courtroom with judges and other attorneys and with court staff. One thing I have struggled with in the past while working in public interest work (in law school and before law school) was taking the work home with me–internalizing the pain or hardships of those I worked with and for. This summer through many attorneys at the public defender's office I learned skills and ways to cope with the hardship of our clients and how important self-care is in this line of work.
What do you like best about doing public interest law work?
Oh gosh–what don't I like about it! (besides the pay :)) I love public interest law work because at the end of the day I feel like I have made a difference in our community. Sometimes that difference is making sure a client experiences a fair outcome to their criminal case, or that difference is listening to a client tell their story when no one else seems to care.
What are you doing to help with the PILS Auction?
I am the "day of event team lead". That fancy title means I have been working with a small team of students to make sure everything for the event is set to go from the games to the desserts to the decorations. So many great students are involved with the auction this year, and I'm excited to celebrate and raise money for fellowships for next summer.