Through efforts such as the Marquette Volunteer Legal Clinic (MVLC), "we are chipping away at poverty by bringing greater access to justice," says Angela Schultz, Marquette Law School's assistant dean for public service.
The documentable record of the clinic in providing thousands of low-income people with access to legal help earned honors at two events this week.
On Tuesday, Milwaukee Archbishop Jerome E. Listecki presented a "Treasures of the Church" award to the clinic in recognition of the success of the Mobile Legal Clinic, which was launched in 2014 as a joint project of Marquette L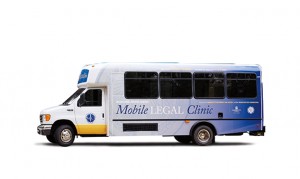 aw School, the Milwaukee Bar Association, and Milwaukee County. The recognition came as part of Archbishop's Lenten Luncheon. The Treasures of the Church awards recognize those who have shown steadfast commitment in response to the needs of poor people.
On Thursday, the United Community Center, a large social service and education provider on the south side, recognized the MVLC as its "group volunteer of the year."
Schultz said the MVLC moved its center on the near south side into the UCC just over a year ago, with the result that there has been a large increase in the number of people being served in that area of Milwaukee.
Law School Dean Joseph D. Kearney said, "On behalf of Marquette University Law School, we are grateful to Archbishop Listecki and the United Community Center for recognizing the contributions of the Marquette Volunteer Legal Clinic. Marquette lawyers are called to serve, both as an acknowledgement of our obligation as attorneys and as an expression of the university's Catholic and Jesuit mission. Work in the MVLC instills in our students a recognition of their unique societal role and privilege as members of the legal profession."
Schultz noted that the MVLC has been serving more than 4,000 people a year at four fixed-location clinics, as well as through the mobile clinic, which is based in a van. She said that thanks for the clinics' success really goes to the more than 500 volunteers who are involved, including more than 200 students at the Law School and more than 300 practicing Milwaukee lawyers.
The centers offer brief legal advice and referral services on civil matters to low-income people. Many of the issues with which people need help are relatively straightforward from a legal standpoint, Schultz said, but people often do not know how to deal with them.
In accepting the Archbishop's recognition, Milwaukee attorney Mike Gonring, L'82, a partner at Quarles & Brady and a leader in pro bono legal efforts including the mobile clinic, said that the volunteer clinics are helping to close "the chasm" between those who can afford legal help and those who can't.