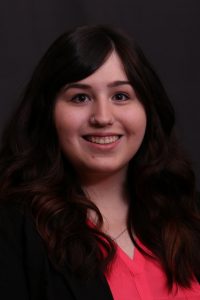 The 25th Annual Howard B. Eisenberg Do-Gooders' Auction on behalf of the Law School's Public Interest Law Society (PILS) will be held on February 16 at the Law School.  Proceeds from the event go to support PILS Fellowships to enable Marquette law students to do public interest work in the summer.  Grace Gall, a current law student, shares her experience here as a PILS Fellow.
Where did you work as a PILS Fellow?
I worked as a PILS Fellow at the Legal Aid Society of Milwaukee in the Civil Division.
What kind of work did you do there?
Legal Aid provides free legal service to individuals throughout Milwaukee who cannot afford private legal counsel. I worked mainly on Civil Rights cases for indigent clients who required Legal Aid service. I did several client interviews for cases involving excessive bail or use of segregated housing within jails. I also worked in the Civil Division on cases dealing with Landlord Tenant law. I helped prepare case documents and did research on a variety of topics.
How was the experience meaningful to you?
This experience was meaningful to me because it gave me an opportunity to work in a new area of law and gain hands on experience within the field. It also allowed me to work for clients who did not have the resources to afford private representation and needed the most help. The individuals who I had the opportunity to help provide legal services to face many struggles. Being able to help them during challenging legal battles helped affirm for me the importance of Public Interest work.
What did you learn in the course of your work?
I learned about new areas of law and learned how apply the skills I have learned in class to the real-world practice of law. I also learned how to communicate and work with others both within the practice and with the everyday person who I was asked to interview.
What do you like best about doing public interest law work?
I liked working with the clients who needed the most help and would not have been represented without the help of Legal Aid.
What are you doing to help with the PILS Auction?
To help with the PILS Auction I have solicited donation items for the Auction and will be volunteering on Friday night.  I also volunteered at the PILS Thanksgiving Dinner.