My father, John Van Lieshout, got his J.D. from Marquette University Law School in 1981. He currently practices law at Reinhart Boerner Van Deuren here in Milwaukee. Since it's been thirty-eight years since he walked these hallowed halls as a student, I interviewed him to get the scoop on what law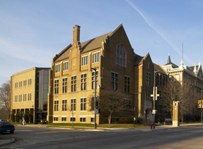 school was like for him. I knew that there would be differences big and small, but I am happy to report that just as he reports feeling great affection for law both in its nature and because of the connections he made, I feel like coming to Marquette was one of the best choices of my life. I hope you enjoy his fond recollections of his time at MULS, whether you are a current student or a former one, and if you are a member of the graduating class of 1981, please feel free to reach out! 
 "The law school used to be six or seven classrooms and a hallway, to put it simply. You saw everyone in that hallway. At that time, there were more women than men, and most of the women did not come directly from undergrad. Many of them had been teachers before deciding to study law. We had contracts, torts, and property both semester one and two. We kept the same sections and the same professors through both semesters, which made the transition much easier. Unlike at Eckstein Hall, our lockers were two feet long and two feet deep; they basically only fit textbooks. There was not room for a winter coat or boots. 
Our first semester, one of the property professors was ill, so the entire class met in one section. You didn't know the meaning of "butterflies in your stomach" until you got cold-called and stood up in front of 185 students to discuss treasure trove. Legends were made in that class, both good and bad. In one case involving a dispute between neighbors, I offered a "bare-knuckled solution"—dig a ditch to separate the warring parties. The professor fixed me with a glare, and said:   "With answers like that, you may well end up digging ditches." (The correct answer was enter into an easement agreement.) These days, by force of habit, every time I review an easement agreement, I try to work in a clause about digging a ditch. 
"There was no anonymous grading. All tests were written by hand in a "blue book" which was a pamphlet of 20 pages, 8 ½ by 6, with a blue cover. I cannot imagine what the stress and anxiety did to penmanship. I'm certain half the writing looked like hieroglyphics, or some crude cave painting. We received our first semester grades in early February. Dean Mentkowski came into Torts and told us grades were ready. The entire class exhaled at the same time; I thought the blackboard might be dislodged and fall off the wall. We trudged down the stairs to the office like we were heading to a mass execution. We stood in a single-file line—stone silent– for what seemed hours, and were handed a tiny slip of paper, folded in half.  I didn't know when, how or where to open it, and I ended up looking at it in the men's room in the library basement. To this day, I believe my poor choice of an "opener" cost me some points in contracts. 
 "We had no computers or cellphones. I know this makes it sound like fire was discovered AFTER I graduated, but we had a legal-sized yellow pad at the front desk of the library that we used for sending messages to each other. Over time, this method revealed flaws which were no doubt stress-induced. I cannot recall the number of messages left by a "Ms. Palsgraf" seeking "train tickets" or by a "Mr. Hoffmann" wondering if someone could run to the Red Owl store for him. All the replies were unprintable. 
 "Class assignments were posted on a bulletin board outside the office for every class and every grade. Since every student in every class had to check the board, it became fertile ground for abuse. It seemed like every time the newspaper printed a picture about a spectacular train derailment, someone would cut it out and post it with a message that said: "Mr. Smith, this is what happened to you in civil procedure yesterday." 
 "No offense to my college professors, but I remember only a few of them. My law school professors? I remember each and every one. Thirty-eight years has not dimmed by one watt my admiration and respect for Jack Kircher, Chuck Clausen, or Hugh McManus. I can still hear Fred Schwartz struggling to pronounce the name of my classmate Roman Chojnacki (pronounced "HOY-not-ski"). It always came out sounding like Roman Chewbacca, the big hairy sidekick in Star Wars. 
 "The friends I made in law school are different from my college friends or my boyhood friends. In some respects, we went through the fire together and that made us closer. Think of it as a three-year session of "Escape Room." In any event, I am very close to my law school friends, and I say without hesitation that I love them and that meeting them and taking the journey with them was the best part of my law school experience. I hope that part of law school never changes."