2019 was a memorable year for those interested in Wisconsin's water resources. During his January 2019 "State of the State" address, Governor Tony Evers declared it the "Year of Clean Drinking Water in Wisconsin," making water a primary focus of his first year in office. Around the same time, Assembly Speaker Robin Vos announced the creation of a water quality task force to study water contamination issues. Shortly thereafter, I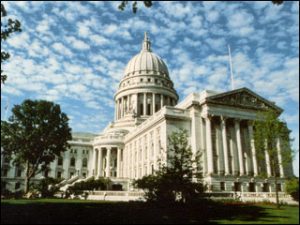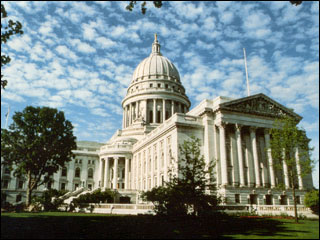 wrote a post describing a shorthand "top ten" list of issues for the administration and the task force to consider. In no particular order, my list included lead laterals, PFAS and other emerging contaminants, nutrient pollution, groundwater contamination and private wells, Great Lakes diversions, CAFO regulation, the DNR, infrastructure, high capacity wells and groundwater drawdown, and wetlands protection.
But now 2020 has arrived. What were the tangible results of the "Year of Clean Drinking Water"? Many promising efforts are underway and the state has made significant progress in some areas, but much remains to be done. The Governor's declaration and the Speaker's task force brought much needed public attention to water quality issues, but it would be a shame if that intense focus fades with the turning of the calendar. Governor Evers recognizes this, admitting in a recent interview that he knows the work will take much more than a year. And he expects Wisconsinites to support it in the longer term: "People like to have clean drinking water," he said. "Who doesn't want it? Who doesn't need it?" Yet in his 2020 "State of the State" address Evers mentioned water only once, a late reference to "getting PFAS out of our water" as part of a list of things yet to be accomplished.
Here are the specifics of what happened last year:
First, let's look at actions taken by the governor.
During his successful campaign, candidate Evers proposed to establish a loan program for lead pipe and contaminated well replacements, allow expanded local tax levies to replace lead pipes, and create intervention programs for children with elevated blood lead levels. While the governor's 2019 budget proposal included funding for some of these efforts, the legislature deleted most of them. Ultimately, the final budget included $14 million for lead abatement in homes occupied by low-income children and pregnant women.
Once elected, Governor Evers directed the DNR to regulate nitrate levels in "sensitive areas," a move aimed at combating groundwater contamination generally thought to be caused by land application of manure and fertilizers. In December, the state Natural Resources Board ("NRB") voted 5-1 to approve a framework for a set of DNR regulations to govern manure and fertilizer handling on certain soils that the agency had determined would be most vulnerable to contamination. That was a first step in what is likely to be a multi-year rulemaking process set to include public input and to pit farm industry and environmental groups against each other. The outcome is very important, as forty percent of Wisconsinites obtain their drinking water from private wells.
In late August, intending to address public health risks from PFAS chemicals, Evers issued Executive Order 40. The order directed the DNR to identify potential sources of PFAS, expand PFAS monitoring in fish and wildlife, provide future liability exemptions after successful completion of PFAS cleanups, and perhaps most importantly, to develop regulatory standards to protect human health and the environment.  The Order also creates the multi-agency "PFAS Coordinating Council" (now known as the Wisconsin PFAS Action Council) to "develop an action plan for the State," with components to include public education, source identification, risk characterization, testing protocol development, collaboration with academic institutions, and funding identification. The Council has already held two meetings to establish its organizational structure and an action plan.
In October, the NRB voted to move forward with a wide-ranging DNR rulemaking process to address PFAS contamination in drinking water, groundwater, and surface water.  The contours of that effort will become clear as it moves forward; as a starting point, the Wisconsin Department of Health Services recommended that DNR impose a groundwater standard of 20 parts per trillion for PFOA and PFOS. More recently, the Legislature approved a bill prohibiting the use of firefighting foams that contain PFAS.
Meanwhile, the Speaker's task force held fourteen statewide hearings, took testimony on a variety of topics and "heard a resounding theme: water quality is crucially important to the health and vitality of our state's people, industries, and natural resources." In mid-January, the Speaker's task force issued its report to Speaker Vos summarizing its work and outlining thirteen recommendations for proposed legislation.
They include:
Creating a new Office of Water Policy to "coordinate efforts to manage, conserve, protect, and enhance the productivity of the state's water resources for domestic, municipal, commercial, agricultural, industrial, recreational, and other private and public uses." The Office would have numerous duties including evaluating statutes, rules, and legislative proposals related to water policy, and making recommendations to the Governor, Legislature, and state agencies. (For reasons not clear to me, the office would be located outside the Wisconsin Department of Natural Resources and within the Wisconsin Geological and Natural History Survey.)
Increasing funding for county conservation staff to support activities that will prevent soil erosion and runoff of nutrients and pollutants into waters of the state.
Increasing the available funding for and the scope of an existing program providing for the replacement or reconstruction of contaminated wells.
Adding procedural steps, including public notice and a comment period, to the process for establishing health-based groundwater standards.
Creating a pilot program to address nitrate contamination that would award grants up to $50,000 to agricultural producers for use in projects that reduce nitrogen loading to water bodies.
Providing assistance to farmers for conservation efforts such as managed grazing.
Advancing groundwater testing, mapping, and educational outreach.
Supporting the University of Wisconsin's "Freshwater Collaborative" initiative, with a special focus on two challenges: agricultural water management and water quality and safety.
Providing for the collection and storage or disposal of firefighting foam that contains PFAS.
Supporting an expanded group of eligibility criteria for municipal flood grants related to wetlands preservation.
Delaying a "sunset" provision in a fund supporting the installation and maintenance of private on-site wastewater treatment systems (commonly known as septic systems) which can cause serious impacts to groundwater if they fail.
Providing a series of pilot grants to support "biomanipulation" projects, defined as "the deliberate removal of certain fish species" to reduce sediment disruption, phosphates, and nitrogen.
Prohibiting the sale of coal tar-based sealant products to prevent the entry of polycyclic aromatic hydrocarbons to the environment.
The task force also expressed support for numerous already-introduced legislative proposals. These included, among other things, supporting water quality credit trading through a credit clearinghouse, restricting PFAS-containing firefighting foams, and requiring schools and other child-care providers to periodically test their water supplies for lead contamination.
The Marquette Water Law and Policy Initiative is working to evaluate each of the Task Force's proposals, a process that will take some time. Of course, it remains to be seen how many of them will be enacted into law.
To be sure, much is afoot in Wisconsin, from the many bills proposed by the Task Force to the DNR's regulatory efforts on nitrates and PFAS. These activities address some aspects of most of the "top ten" issues I identified early last year, with the notable exception of securing funding for lead lateral replacement (the Task Force report recommends that federal funds should be leveraged for this purpose). But from my perspective, every year should be a "Year of Clean Drinking Water in Wisconsin." It will take continuing serious commitments from Wisconsin policymakers—for more than a year, and on both sides of the aisle—to make that a reality.