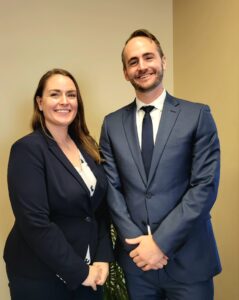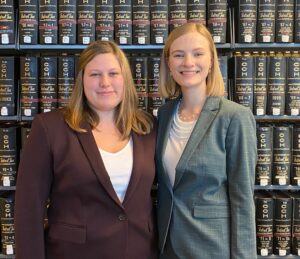 Marquette University Law School hosted the Region VIII round of the 72nd annual National Moot Court Competition on November 19-21, 2021. Both Marquette teams are to be congratulated for their successful and strong advocacy at the competition.
Team members Lauren Brasington and Carsyn Bushman advanced to the final round and took second place overall in the regional round of competition. That team also had the fourth-highest brief score in the region. In the quarterfinal, semifinal, and final rounds, the team argued off brief. During the competition, Lauren received a perfect score in at least one round. The team will advance to the national finals, hosted by the New York City Bar Association in late January. Professor Melissa Love Koenig advised the team, which was coached by attorneys Kieran O'Day (L'20) and Evan Thomsen. Both are former NMCC competitors.
Alicia Bernards and Christopher Vandeventer advanced to the quarterfinals before being eliminated in a close round. Chris Vandeventer got perfect scores from at least two judges in his rounds. Professor Lisa Mazzie advised the team, and attorneys Bryn Baker (L'18), Chal Little (L'16), and Haley Wentz (L'21) coached the team.
Our attorney coaches are extremely dedicated and put in many hours of work with our students. We are lucky to have coaches who come back year after year. Our students benefit greatly from working with them. Our teams put in many hours of practice to prepare for the competition.
We are grateful for the time donated by the many judges and lawyers who judged the briefs and oral arguments for the NMCC Region VIII regionals. Moot Court Associate Justice Zak Wroblewski put in countless hours to ensure the competition ran as smoothly as it did. He was ably assisted by Chief Justice Sasha Chepov and his committee, consisting of Lanre Abiola, Ian Clark, Ben Edelstein, Vanessa Flores, Greg Procopio, and Brandon Zegiel. We appreciate the many Marquette law students who participated as bailiffs and technicians during the rounds, as well the technical assistance we received from our Law and Technology group at the Law School and from the NMCC to host the competition virtually.