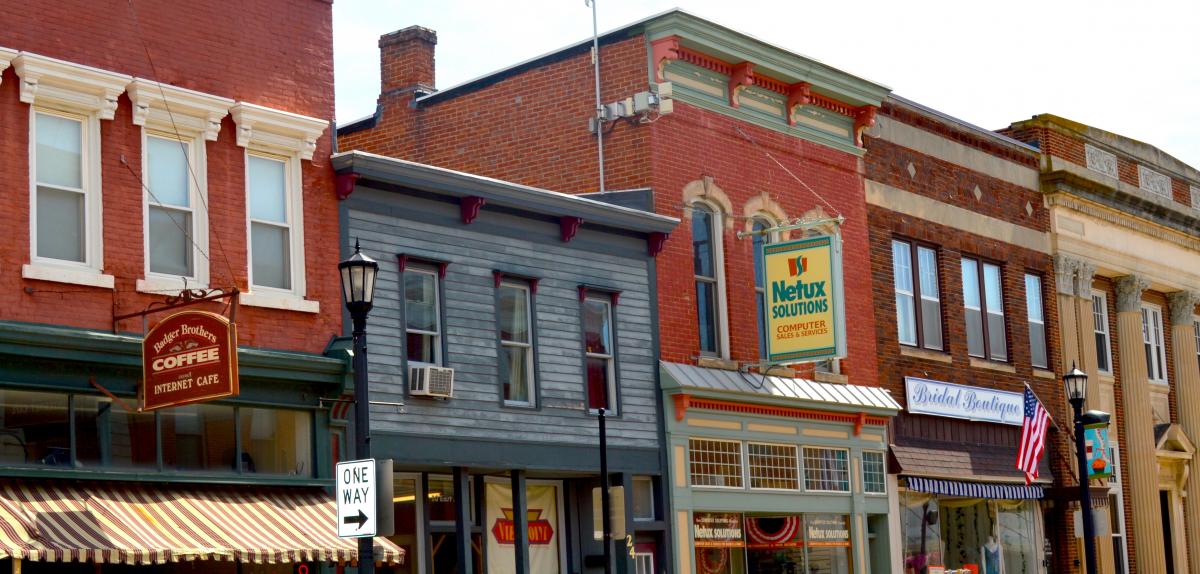 Walk Score is a company which generates eponymous scores for towns and addresses based on how many staples of everyday life you can walk to. A score of 0 means nothing is in walking distance. An entirely walkable community scores 100. New York City scores 88, Los Angeles 69, Houston 47, Scottsdale 32.
I grew up in Bardolph, Illinois with a walk score of 7. We lived within walking distance of three places where I could legally spend money–the post office and two pop machines. Bardolph wasn't always this way. My great-aunts could recall catching the train to the county seat. During my mom's childhood, the village still had a grocery store, pool hall, schools, and two churches. The high school consolidated in 1973, and the grade school merged with Adair in 1979. The Presbyterian church closed in the early 1990s, while the Methodist church lingered just a few years longer. Last time I visited, the pop machines were gone, and the post office was only staffed 2 hours a day.
Bardolph is a little closer to oblivion than some of its neighbors. But all of McDonough County's small towns–Adair (walk score: 7), Good Hope (10), Industry (8), Prairie City (17)–are well along that same trajectory.
These low walk scores aren't a consequence of car-centric design. You could walk to the furthest corners of each in 15 minutes, possibly even on a sidewalk. There is just almost nowhere left to walk to.
This being my experience of rural life, I was surprised to encounter many healthy small towns in Wisconsin, some of which are even thriving. Like the towns where I grew up, they predate the personal automobile. Unlike rural Illinois, they still have economic activity. Many of these small towns retain highly walkable downtown cores. In fact, a typical Wisconsin small town outside of a metropolitan area is much more walkable than a similarly-sized suburb.
I collected the walk scores for Wisconsin's 600-odd incorporated cities and villages. Specifically, I retrieved the walk score for "downtown [CITY NAME]." Of course, not all residents will live in such a walkable neighborhood. Downtown Milwaukee's walk score is an excellent 98, but my neighborhood's score is 67. Some farther-flung parts of Milwaukee's northwest and southwest sides are wholly car-dependent. This is not a measure of the experience of the typical resident in each place. By focusing on downtowns, I present each municipality at (or near) its best for walkers.
The figure below show's each downtown's walk score, with municipalities arranged by total population. Of course, walkability generally increases with population size, but there are some noteworthy exceptions.
Many suburbs, despite their relatively large populations, have abysmal walk scores. Some more rural towns have exceptional walk scores. Consider Hayward, the county seat of Sawyer County, in northwestern Wisconsin. Hayward City proper has a population of 2,384. Downtown Hayward's walk score is a whopping 96–good enough to rank second in all of Wisconsin. To be fair, Madison is probably a better city for pedestrian's overall, but Hayward's high score isn't just based on a bunch of cafes for tourists.
The circle on the map below has a 1 mile diameter. Within that circle, there is a large grocery store, a pharmacy, elementary and middle schools, a senior resource center, a therapist, two auto part stores, two hardware stores, three thrift stores, a laundromat, a barber, several churches, parks, and multiple bars and restaurants.
Hayward is exceptional, but the downtowns of half a dozen other rural communities–Antigo, Rhinelander, Ashland, Granton, Sparta, Neillsville and Tomah–are all rated "very walkable." Take a tour on Google maps, and you'll see why.
Nineteen downtowns in micropolitan areas are very walkable. Among them are Platteville (87), Watertown (86), and Menomonie (85). Recall that the average score for New York City is 88.
Focusing specifically on towns with populations between 2,000 and 15,000 shows big differences between suburbs and more rural population centers. Among such municipalities in metropolitan areas, the average downtown walk score is 48. In micropolitan areas and rural areas alike, it is 59. Even this overstates the walkability of suburbs. High scoring communities like Portage, Mount Horeb, and New Glarus are technically within a metropolitan area, but they are more similar to rural towns in both history and design.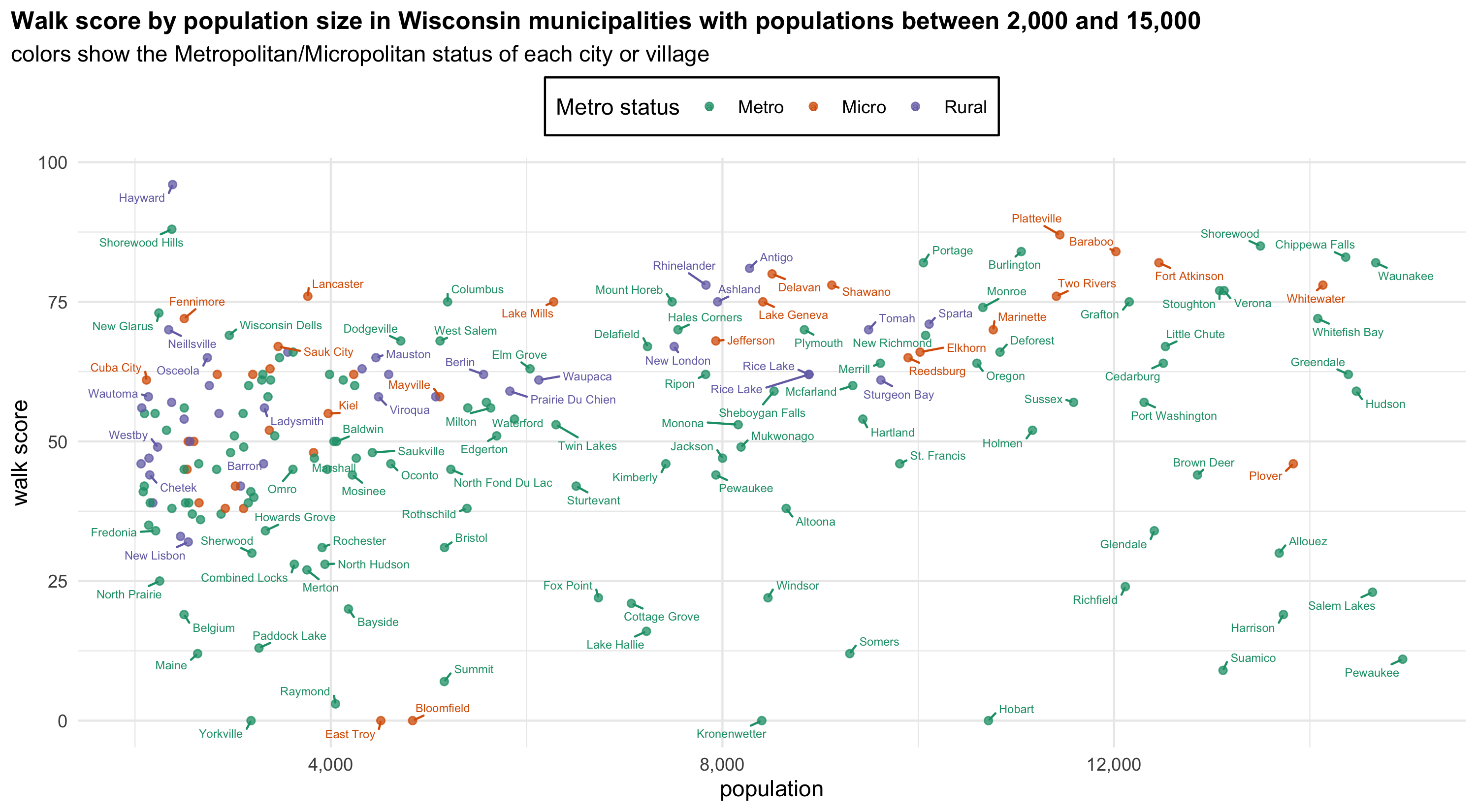 Small towns in rural and micropolitan areas benefit from two things that suburbs lack. Unlike many suburbs, they were built before the personal automobile, so their downtown cores and surrounding neighborhoods, at least, were designed to accommodate pedestrians. Secondly, they are regional hubs, not bedroom communities. The City of Hayward may have fewer than 2,400 residents, but it is by far the largest population center for many miles.
I don't mean to suggest that one can comfortably live without a car in any of these small towns. No small town will contain everything one needs or desires, and intercity transit doesn't exist in most of these places. Development in small towns often takes the form of new construction on the outskirts. Still, one's daily routine can be less car-dependent in many rural communities than in the suburbs. In contrast to Illinois, tourism, outdoor recreation, and more specialized forms of agriculture have kept Wisconsin's rural economy from totally collapsing. At least to some degree, the downtown cores of these small towns still preserve a style of design built for pedestrians. Maybe the transition of more professionals to working from home will breathe new life into them.