Early in the COVID-19 shutdown the Marquette Law School Poll documented an exceptional degree of unity among Wisconsin voters, as the pandemic broke through Wisconsin's thick partisan divide. In late March, more than 8-in-10 Republicans and Independents, along with 95 percent of Democrats, supported the state's mandatory social distancing measures. First-term governor Tony Evers benefited from this groundswell of public support. His overall approval rating jumped from 51 percent at the end of February to 65 percent a month later. Most remarkably, Evers' approval rating grew 19 points with Republicans.
Those days are over.
Evers enjoyed a sustained boost in public approval, but his rating has now reverted to pre-pandemic levels. He began 2020 with approvals of 51 percent in January and February, peaking at 65 percent in March with just 29 percent disapproving. Overall approval declined to 59 percent in May and hovered at 55-57 percent in late June and early August. Now, in early September, 51 percent approve and 43 percent disapprove. This share of disapprovers slightly exceeds the previous high of 42 percent in November 2019.
More Independents continue to approve of Evers than disapprove, but his net rating of +14 is the same as February. After giving Evers several months of approval ratings close to 90 percent, 73 percent of Democrats approve of his overall job performance in early September—his lowest approval since last November. But, Republicans had the biggest shift. They began the year giving Evers a net approval rating of -61. In another demonstration of just how unusual the public mood was in late March, Republicans gave Evers a -14 net approval rating at the beginning of the shutdown. GOP disapproval of Evers grew steadily and swiftly after that, reaching -61 again in early September.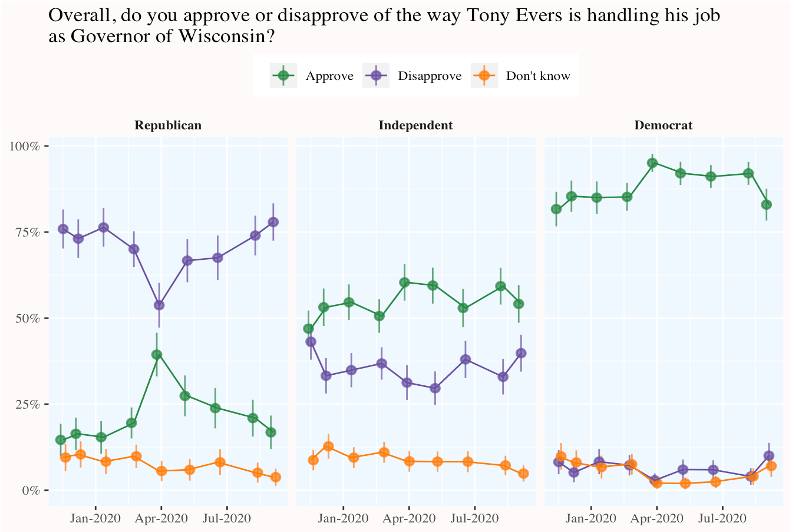 The following table compares Evers' net approval ratings for his overall job performance and his handling of the coronavirus outbreak. Since August, his overall net rating has declined 8 points among Republicans, 12 points among Independents, and 13 points among Democrats. Handling of the coronavirus outbreak remains the issue on which Evers is seen most favorably, but this too has declined by 10 points among Republicans, 5 points among Independents, and 6 points among Democrats.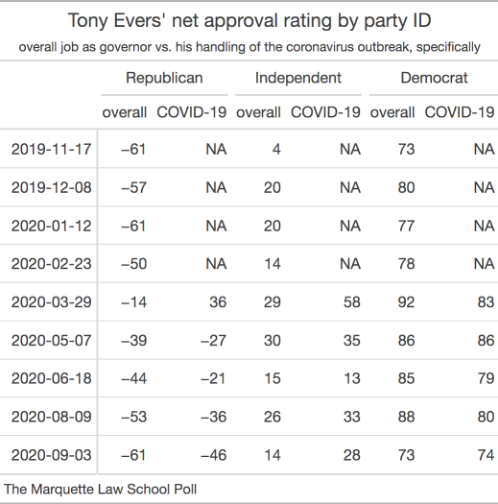 By comparison, President Donald Trump's approval ratings have remained much more stable over this period. Republican approval has hovered in the high 80s and low 90s. Democrats consistently record levels of disapproval in the mid-90s. Independents alone show a clearly discernable trend. Trump enjoyed a brief COVID bump with Independent voters, with his net approval shifting from -7 in February to +8 in March, but, over the rest of the spring and summer, his approval rating steadily declined. Independents in early September give him essentially the same net rating (-17) as in early August.
After some remarkable shifts during the spring and summer of 2020, Wisconsin voters enter the fall with views of Tony Evers very similar to those they held at the beginning of the year. However, unlike last winter, voters now have more firmly fixed views of the governor. The share of respondents who don't have an opinion has fallen by half, and the share who "strongly disapprove" (rather than "somewhat") has reached an all-time high of 33 percent. This makes another dramatic swing in public opinion, like we saw this spring, even more unlikely.