This past fall, the Milwaukee Association for Women Lawyers (AWL) Foundation honored three Marquette University Law School students with scholarships.
Sebrina Dixon, 3L, received the AWL Foundation scholarship. The AWL Foundation Scholarship is awarded to a woman who has exhibited service to others, diversity, compelling financial need, academic achievement, unique life experiences (such as overcoming obstacles to attend or continue law school), and advancement of women in the profession.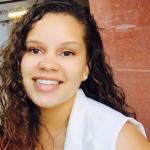 Dixon is an Iowa native and a graduate of Iowa State University. Although she double majored in psychology and criminal justice, she found tax law in law school and settled into her niche. She is the co-founder and co-president of the new Tax Law Association. Dixon is a member of the student chapter of AWL and the Black Law Student Association (BLSA) and is a staff editor of the Marquette Benefits and Social Welfare Law Journal.
Samantha Jozwiak, 2L, received the Shirley S. Abrahamson Scholarship. Recipients of the Shirley S. Abrahamson Scholarship must have "demonstrated perseverance in the face of adversity" and show commitment to issues affecting women or children in the community and to public service. The late Shirley S. Abrahamson served on the Wisconsin Supreme Court for 43 years. She was the state's first female supreme court justice and, later, its first female chief justice.