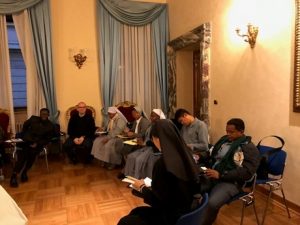 My trip to Rome in spring 2016 triggered a return visit this past November, when I again taught a segment of a certificate program addressing the Catholic sex abuse scandal.
The Pontifical Gregorian University's Center for Child Protection offers the four-month graduate certificate program to religious sisters, brothers and priests from around the world who are assigned to head up Protection for Children offices. The program goals: to teach how to deal with past abuse and prevent further incidents.
I spent a full day with 19 students representing four continents. While there were some language barriers to overcome, the group was able to comprehend the power of Restorative Justice ("RJ) presented in different contexts — particularly its value regarding sexual abuse within the Church.
I explained how in past clergy abuse cases, it is not often possible to bring victims and offenders face-to-face in dialogue because many offenders are in denial, deceased or too old, with limited memory. We, therefore, explored the hope that RJ offers in addressing "secondary victimization" by members of the Church's hierarchy.