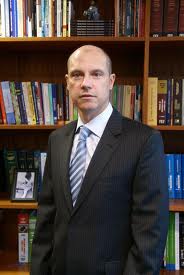 Last September, the Law School hosted a lecture by the Hon. Fausto Martin De Sanctis, a distinguished federal judge from Brazil. A former fellow at the Federal Judicial Center in Washington D.C. (2012), Judge De Sanctis has spearheaded Brazil's efforts to crackdown on international and domestic money laundering, among other crimes. In his lecture, Judge De Sanctis described how museum-quality art served as a medium for laundering cash that left only a scant trail for investigators to follow. It is, he said, an international problem that cries for international solutions.
Judge De Sanctis has now published a book on this intricate topic, Money Laundering Through Art: A Criminal Justice Perspective (Springer, 2013).Central to Judge De Sanctis's argument is the need to lift the secrecy that shrouds many art transactions. While art dealers proclaim the need for confidentiality and the cultivation of a mystique, law enforcement contends that this same secrecy facilitates crime and fraud. The complexities of these crimes, including references to Judge De Sanctis and his (then forthcoming) book, were recently canvassed by the New York Times in a May 2013 story. (See link)
Although this is not the place for a book review, a few points are in order. Money Laundering Through Art skillfully blends law and policy with an insightful discussion of how legitimate markets are subverted by very smart criminals. Of particular interest is Judge De Sanctis's description of the international art market, its institutions, and how their structure and practices facilitate money laundering by stealth, forgery, and fraud (chapter 4). Comparisons of art transactions with shady real estate deals (bloated mortgages, insurance fraud) are threaded throughout. A final chapter couples legal solutions addressed at both money laundering and terrorism finance.
Judge De Sanctis tells me that he is now working on a book about crime, money, and organized sports. My colleague, Matt Mitten, a leading sports law expert, tells me that Brazil has one of the most sophisticated codes in the world of sport. With Brazil set to host the 2014 World Cup and the 2016 Olympics, one can be confident that Judge De Sanctis is well placed to assess the international implications of sport and crime. I look forward to hearing more.
N.B. The Law Library has a copy of Judge De Sanctis's book on reserve.