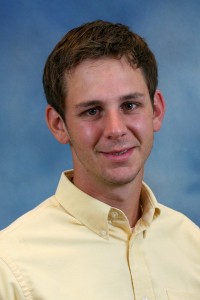 The 21st Annual Howard B. Eisenberg Do-Gooders' Auction on behalf of the Law School's Public Interest Law Society (PILS) will be held in the evening on Friday, February 21, 2014 at the Law School.  Proceeds from the event go to support PILS fellowships to enable Marquette law students to do public interest work in the summer.  Patrick Winter, a current law student, shares his experience here as a PILS Fellow.  Besides his work as a PILS Fellow, Patrick is helping to organize this year's Auction.
You may attend the Auction by purchasing tickets here, or you may purhcase tickets at the door.  This link also provides you with an option to donate to the Auction.
Where did you work as a PILS Fellow?
I worked for the U.S. State Department, at the U.S. Mission to the United Nations in New York.
What kind of work did you do there?
I worked with the U.S. policy negotiation teams for the Middle East and East Africa to forward U.S. policy on issues pertaining to Syria, South Sudan, Somalia, and the Democratic Republic of the Congo. I attended UN Security Council proceedings as well as bilateral and multilateral negotiations with other UNSC Member States, and prepared briefing memorandums for senior U.S. government officers on issues arising in the Council. Much of my work involved operational issues with peacekeeping operations, as well as topics on the protection of women and children in armed conflict zones, and UN mandated country-specific sanctions. I received reports from peacekeeping operations abroad, created diplomatic cables on current progress and setbacks in conflict zones, and prepared reports on legal issues pertaining to regulatory sanctions imposed by the UN and the United States.
How was the experience meaningful to you?
I could not have asked for a better experience. I was in the Security Council each day, and on occasion, I would get the opportunity to sit at the horseshoe with our UN Ambassador, surrounded by diplomats from around the world. I have taken numerous courses in international relations and global affairs, but I never once thought I'd find myself on the floor in the Security Council. I witnessed worldwide cooperation towards the goal of international peace, security, and stability, and the efforts made by countries around the globe trying to make that goal a reality. It was an amazing summer. I got quite lucky as the U.S. had the presidency of the Security Council while I was there. As part of the presidency, our office was tasked with coordinating the Council meetings, and planning thematic debates in the Council on issues such as the safety of journalists in war zones, and conflict minerals in the Great Lakes region of Africa. During my internship I had the opportunity to work with former UN Ambassador and current U.S. National Security Advisor Susan Rice, and I had the chance to meet Secretary of State John Kerry, Judge Theodore Meron, President of the ICTY, UN Special Envoys Russ Feingold and Angelina Jolie, and the Secretary General of the United Nations, Ban Ki-moon.
What did you learn in the course of your work?
I had the opportunity to take a front row seat and watch the United States negotiate political issues with other countries of the world, and I saw how much effort it takes to get all fifteen members of the Council to agree on a resolution. I was able to work on legal issues pertaining to economic sanctions, as well as the International Criminal Tribunal for the former Yugoslavia, and I sat in on international security briefings with Military Staff Commanders where the task was to propose new plans to move forward with peacekeeping operations in areas of increasing conflict. Throughout the summer, I got a great perspective on how different governmental departments coordinate to make U.S. foreign policy, and how we represent those interests within the United Nations.
I have spent time in developing countries, and I have studied foreign aid programs and development strategies, but until this summer I never actually realized the impact, on the whole, that U.S. foreign assistance makes around the world. Again, it was an amazing experience.
What do you like best about doing public interest law work?
I'm not sure what I like most about public service work, but I have always gravitated towards it. My father has always been involved in the community, and he included me in that work; I know I have learned a lot from him. With his influence I became an Eagle Scout and volunteered and worked for non-profits throughout high school and college. After school I worked for NGOs in East Africa, and then I worked for a community center in Madison, Wisconsin upon my return. I have found that work is more satisfying when it's done to help others. "Do well, and do good," is good advice to follow.
What are you doing to help with the PILS Auction?
This year, I am the IT chair for the Public Interest Law Society, so if any technical problems arise during the PILS Auction you now know whose fault it is. My responsibilities include coordinating power point presentations, IT setup, and audio and video feeds for the Auction. I have also helped by selling raffle tickets and soliciting for silent auction donations in the community. As a past PILS fellowship recipient, I know first hand how beneficial the fellowships can be, and I would personally like to express my sincerest gratitude to those who have donated to the Auction, and to those who help make these yearly student fellowships possible.