October 20-26, 2019 is recognized as National Pro Bono Week. For the last ten years, a week in October has been chosen as a way to spotlight the pro bono work done by law students, lawyers, and paralegals across the country.
How did it get started? Back in 2009, the ABA Standing Committee on Pro Bono and Public Service decided to create a coordinated event to highlight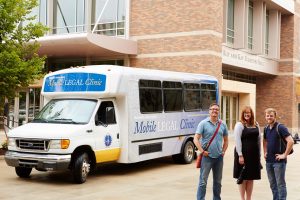 the "increasing need for pro bono services during harsh economic times and the unprecedented response of attorneys to meet this demand." Ever since, it has promoted pro bono activities during October to help increase access to justice and community involvement.
So what is Marquette Law School doing for Pro Bono Week? Well, I first want to mention that the Law School has been committed to public service for a long time. The Office of Public Service is continuing to organize pro bono opportunities, trainings, CLEs, and really just business as usual because serving our communities is engrained in our mission. Almost 70% of our current students have participated in pro bono opportunities and we've served thousands of clients over the year.
So if you haven't yet volunteered at one of the many Marquette Volunteer Legal Clinics (MVLCs), traveled on the Mobile Legal Clinic bus, or participated with the Milwaukee Justice Center (which will be celebrating its 10th Anniversary this month), I would encourage our students, faculty, and alumni to sign up for a shift during the week.
But we are also going to use the week to recognize just a few of our volunteers, both current students and alumni. They have put in a lot of time and effort to connect with the Milwaukee community and help increase access to justice. Hear about some of their experiences and find out what motivates them to give their time to this cause. Hopefully it will help inspire you to give back as well.