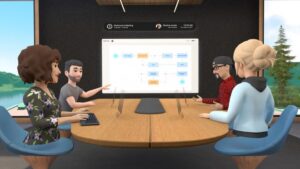 In another post, this writer discussed Covid through a discussion of what is normal and mentioned, briefly, this concept of the metaverse. As we embrace things that are becoming normal, many legal professionals have conducted a large amount of business virtually utilizing platforms such as Microsoft Teams and Zoom. Many more may not even realize that these "normal platforms" are, at minimum, precursors to what companies plan for the metaverse.
You may have seen the news that Facebook, Inc., changed its name to Meta Platforms, Inc., in the fall of 2021. Mark Zuckerberg, CEO, says the company did this to showcase its commitment to the development of a metaverse. But Meta Platforms isn't the only player in the metaverse game, nor can it be. More recently, Microsoft purchased the video game holding company Activision Blizzard to continue its development of its idea of the metaverse. And Nvidia has been developing the Omniverse as its own metaverse. The list of companies participating in metaverse activities is numerous and varied. But what are these companies doing and why does it matter to the readers of a law school blog?
These companies are shaping Internet 3.0, what is popularly called the metaverse.