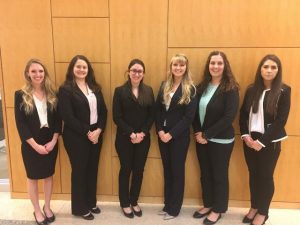 Marquette hosted the Region VIII round of the NMCC on November 17-18, 2018.
Please congratulate team members Jessica Delgado, Emily Gaertner, and Sarita Olson, who received the highest brief score in the competition and award for best Petitioner's brief. The team advanced to the quarterfinals. Professor Rebecca Blemberg advised the team, and attorneys Bryn Baker, Veronica Corcoran, and Chal Little coached the team.
Please congratulate Claudia Ayala Tabares, Katie Bakunowicz, and Kelsey Stefka for placing in the semifinal round. I had the privilege of working with this team, and the team was coached by Attorneys Jason Luczak, Brianna Meyer, and Max Stephenson.
Continue reading "Congratulations to Marquette's National Moot Court Competitors"