Twenty-three teams from across the country arrived in Philadelphia at the United States District Court for the Eastern District of Pennsylvania on February 16, all prepared to present oral arguments in the National Appellate Advocacy Competition regional. Two of those teams were from Marquette University Law School, and they shone.
First, 3L team Kyle (Kip) Elderkin, Emily Ward, and Jessica Zimpfer. Unfortunately, a couple of days before the competition, Zimpfer became ill and was unable to travel. The loss of able advocate Zimpfer meant that Ward had only a couple of days to prepare to argue both sides of their issue. Even so, Ward and Elderkin advanced to the regional semifinals, but lost in that round. Both received perfect oral advocacy scores from one of the judges in an earlier round.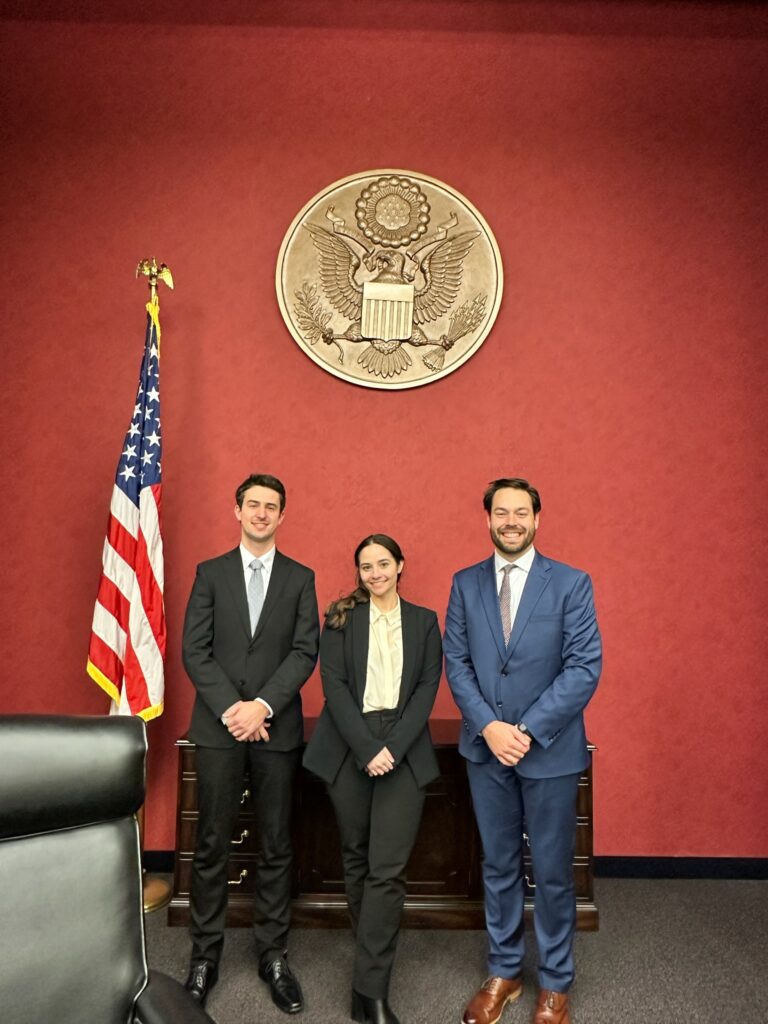 Second, 3L team J.P. Curran, Andrew Holzmann, and Abigail Kincheloe. These three argued their way into the regional finals round—one win away from advancing to the national competition—but did not prevail. However, their brief tied for fourth best in the region, and Andy Holzmann was named eighth best oralist in the region.
Congratulations to each team member for their outstanding representation of Marquette Law. And our deepest gratitude goes to Attorneys Julie Leary (L'20), Jay McDivitt (L'21), Ben Edelstein (L'22), and Kyle Frank (L'22), who devoted many hours to coaching the teams. Thank you, too, to the many guest judges: Xavier Jenkins (L'21), Rebeca Lopez (L'12), Dan Murphy (L'16), Jacob Rozema (L'20), Zach Willenbrink (L'11), and Adam Woodside (L'18).