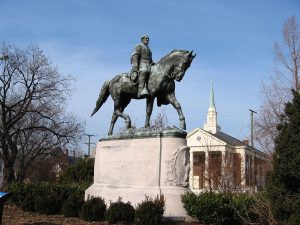 It is that values question we should really be asking. As far as I can tell, those who object to the removal of the statutes seem to be saying that those Confederate generals who defended slavery, secession, and white supremacy represent the values of a twenty-first century America that is becoming more egalitarian and diverse.
It is overstatement to say that by removing monuments to Confederate generals one is erasing all history. Commentators have wondered aloud whether this will become a long-term movement towards total eradication of history of the South. The president even suggested this by asking when this will stop. He called the removal of Confederate monuments the destruction of culture. These claims incorrectly conflate crafting historical memory with the fact that honorific statuary in public places signals the values of the modern-day community.Memory of the Civil War and its aftermath will not suddenly be completely erased forever because statues are torn down, street names changed, buildings renamed, and the like. Culture will not be destroyed. (And as an aside, one should ask, "Who's culture is being protected by protecting these monuments?") The consequences of the Civil War, for good and ill, linger. Moreover, history's memory is a lot longer than the beginning and ending of a statue, and history will continue to be useful as long as scholars, schools, and society have open and honest conversations about the past.
History is dynamic. Honorary statues are not. Communities change and values evolve and those who are honored yesterday may be disfavored tomorrow. Think about it this way–when the American Revolution concluded, as my friend and Marquette colleague Edward Fallone points out, no one objected that the history of British rule over the colonies would be erased forever when the statues of George III were torn down. Two hundred forty one years later, we literally still sing songs to sold-out audiences about the American Revolution. And Hamilton the Musical! still gets the facts right.
The communal choice of determining who is and who is not to be honored in the present day is a completely different conversation than one about the state of history. We shouldn't confuse the two. Continue reading "On Overstating the Case for Confederate Monuments"