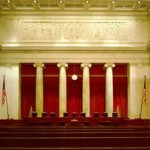 The Jenkins Honors Moot Court Competition is an appellate moot court competition for Marquette law students. Students are invited to participate based on their performance in the fall Appellate Writing and Advocacy course at the Law School.
Congratulations to the participants in the 2012 Jenkins Honors Moot Court Competition: 
Joseph Birdsall
Bailey Briggs
Clayton Britnell
Nicole Cameli
Mark Darnieder
Dana Gilman
Kristina Gordon
Steven Gruber
Nickolas Hagman
Anne Halverson
Matthew Hanson
Nicholas Hermann
Gabriel Houghton
Nathan Imfeld
Adam Koenings
Jenna Leslie
Jenna McConnell
Sarah McNutt
Matteo Reginato
Patrick Ritter
Brett Schnepper
Max Stephenson
Ariane Strombom
Megan Zabkowicz
Students will begin writing their appellate briefs in January with the rounds of oral argument commencing later this spring.  The competition includes three preliminary oral argument rounds and a semifinal and final round.  
The Jenkins competitors are fortunate to have the opportunity to argue before distinguished members of the bench and bar from Wisconsin and beyond. The final round judges of the 2011 competition were the Honorable Carolyn Dineen King, the Honorable Barbara Brandriff Crabb, and the Honorable Patricia J. Gorence.
The competition is named after the James G. Jenkins, the first Marquette Law School dean. More can be read about Jenkins in Professor Gordon Hylton's blog post.