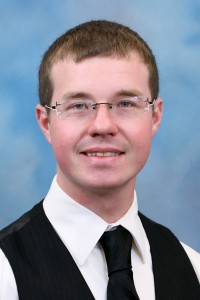 The 21st Annual Howard B. Eisenberg Do-Gooders' Auction on behalf of the Law School's Public Interest Law Society (PILS) will be held in the evening on Friday, February 21, 2014 at the Law School.  Proceeds from the event go to support PILS fellowships to enable Marquette law students to do public interest work in the summer. Zachariah Fudge, a current law student, shares his experience here as a PILS Fellow.  Besides his work as a PILS Fellow, Zachariah is active on the PILS student board.
You may attend the Auction by purchasing tickets here or you may purchase tickets at the door.  This link also provides you with an opportunity to donate to the Auction.
Where did you work as a PILS Fellow?
This past summer I was a legal intern at the Alternate Public Defender's Office in San Diego.
What kind of work did you do there?
The Alternate Public Defender took on felony cases where there was a conflict with the main Public Defender's Office, so our cases were usually more complex, multi-defendant affairs. I was able to do quite a bit over the course of my brief tenure, including conducting client and witness interviews, researching, drafting motions, and representing clients during various types of hearings. I was able to second chair a ten-day trial that ended in the dismissal of all charges, so that was exciting.
How was the experience meaningful to you?
Of course, criminal defense is great in that your work helps another human being in a distinct way at a crucial moment in their life, and you get to meet and get to know the client over time. If you're lucky, you can make a real difference in someone's life.
What did you learn in the course of your work?
I learned a lot about the dozens of subtly different fraud crimes in the California statutes; hopefully that will not come again. I also learned quite a bit about dealing with judges and juries, and that hopefully will come up again in my career.
What do you like best about doing public interest law work?
The best part about public interest work is the most obvious thing, that you are actually helping people. It also is extremely interesting work. Personally, I can't imagine doing anything else.
What are you doing to help with the PILS Auction?
I was press-ganged into a PILS board position as an Education & Outreach Chair, so I'm not really involved in the planning of the Auction. On the night of the event, I am going to work setting up the Auction and doing coat check.