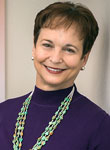 This fall, Professor Linda Edwards joins Marquette Law School as the Robert F. Boden Visiting Professor of Law.  She is the E.L. Cord Foundation Professor of Law at UNLV.
You have written a wonderful book on the great briefs. What are some of your favorite briefs and why do you like them?
One of my favorites is the Petitioner's brief in Miranda v. Arizona. Scholars, law teachers, and practitioners usually read judicial opinions rather than the briefs that produced those opinions. The Miranda brief is one of the few that has received attention in its own right. I took my turn to comment on it in Once Upon a Time in Law: Myth, Metaphor, and Authority, 77 Tenn. L. Rev. 885 (2010). Instead of a dry parsing of the cases, the argument section tells an engrossing story of the birth of the right to counsel. It's also a story about the kind of people we want to be. It's well-written too. In an era when lawyers tended to write in a boring, ponderous style, the Miranda brief is engaging and easy to read. It combines strong legal analysis, great policy arguments, and a passion for justice—a great example for us all.
Another of my favorites is the primary defense brief in the set of consolidated cases that came to be known as Furman v. Georgia. The primary brief challenging the death penalty for those cases was actually filed in Aikens v. California. The thing I like most about this brief is the daring choice it makes in the fact statement. It does not try to minimize the crimes or argue that the defendant was innocent or that his hard life provided an excuse for his actions. All of those would have been losing arguments. Instead, it admits that the crimes were horrendous and that the defendant probably did them, but it uses our human reaction to those killings to argue that state-imposed killing is little better. It was a risky argument, but it was honest and much better strategy than the alternatives. I really admire the courage and skill it took to pull it off.
Does rhetoric matter in legal advocacy? Is the study of rhetoric making a comeback?
I would say that legal advocacy is rhetoric. More and more lawyers, teachers, and scholars are realizing that legal advocacy is part of the ancient rhetorical tradition and that we have a lot to learn from careful rhetorical analysis of legal texts. In fact, law itself—not just advocacy—is inseparable from rhetoric. Law cannot exist outside of its expression, and as modern philosophy has taught us so well, no expression can be value-neutral. I made this argument in Where Do the Prophets Stand?: Hamdi, Myth, and the Master's Tools, 13 U. Conn. Pub. Int. L. J. 43 (2013). Since all legal expressions are influenced by unstated, often unrecognized frames, it is particularly important for us to realize when and how we are being influenced and to know how we can influence others. Sometimes the very lives of our clients depend on it.
What place do you think narrative has in the way an advocate develops an argument?
I'm inclined to think that it's narrative all the way down, and I took a run at making that argument in The Convergence of Analogical and Dialectic Imaginations in Legal Discourse, 20 Legal Stud. F. 7 (1996). Client stories are narratives, of course, but so is the law. Legal rules are abstracted narratives (when X, Y, and Z happen, this is how the story will end). Policy arguments are consolidated and abstracted stories from groups of people. Analogies compare one story to another. So stories make up the law and traditional legal argument about law. Effective arguments for a change in the law depend on all those forms of (narrative) argument as well.
How did you first get interested in teaching legal writing?
Even as a child, I was curious about how people try to persuade others. As early as age ten, I remember watching TV commercials and speculating about what strategy the advertisers were using. When I went to law school, courses in legal writing were in their infancy and mine was not all that effective, but the practice of law made legal writing's importance crystal clear. After ten years of practice, I had a chance to join the NYU Lawyering faculty, and it all came together for me there. I felt like I had found my professional passion. That was 27 years ago, and that passion is still as fresh for me today as it was so long ago.
How has the legal writing profession changed over the years? How would you like to see the profession develop in the next 10-20 years?
Modern legal writing courses began in the mid-1980s and have come a long way in thirty years. Originally, they were viewed as courses mostly about commas and citation form. Over the years, through the hard work and vision of many people, we have begun to build both an academic discipline and a pedagogical tradition for teaching the writing skills lawyers need. We have succeeded in creating excellent first-year courses. I think our next frontier will explore more advanced courses and will produce sophisticated scholarship to support those courses. That's the work that excites me now, and I hope the next 10-20 years will bring more and more groundbreaking developments to deepen the field.