I have previously written in this space about the difficult water policy issues facing "megacities," generally defined as cities with a population of over ten mill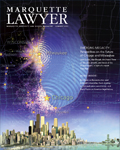 ion people. Meanwhile, the Law School, working in partnership with the Milwaukee Journal Sentinel, has taken an increasing role and interest in studying various aspects of the "Chicago Megacity," the region stretching from the Milwaukee area, across metropolitan Chicago, and into northwest Indiana. For example, see here, here, here, and here for discussion of a variety of issues such as economic development, transportation, and education.
We are excited to announce that on April 17, the Law School and the Journal Sentinel will continue those efforts, hosting a conference titled "Lake Michigan and the Chicago Megacity in the 21st Century." The event is free and open to the public, but advanced registration is required; find out more and register at this link. More details about the conference follow.
A 2012 Organisation for Economic Co-operation and Development (OECD) report on the Chicago Megacity found that some of the region's greatest advantages lie in its access to and expertise in water, as it is home to the top water-related cluster in the United States. But in the years since, water-related competition or outright disagreement has sometimes prevailed over cooperation, and the resource is under increasing strain. This conference will explore the future of the Chicago Megacity's relationship with water, including the challenges and opportunities the region faces. This requires a special focus on interactions with Lake Michigan, the dominant geographic feature of the region. Participants from a variety of disciplines will discuss topics such as the Chicago Megacity's responsibility to protect Lake Michigan from various threats, whether and how Lake Michigan should be used as a tool for economic development in the region, and the challenge of delivering a safe and reliable water supply.
The conference's primary organizers are:
David Strifling, Director, Water Law and Policy Initiative, Marquette University Law School
David Haynes, Editorial Page Editor, Milwaukee Journal Sentinel
Participants include:
Dean Amhaus, President & CEO, The Water Council
Peter Annin, Co-Director of the Burke Center for Freshwater Innovation, Northland College
Tricia Braun, Deputy Secretary and Chief Operating Officer, Wisconsin Economic Development Corporation
Randy Conner, Commissioner, City of Chicago Department of Water Management
Molly Flanagan, Vice President for Policy, Alliance for the Great Lakes
Charles Franklin, Professor of Law and Public Policy and Director, Marquette Law School Poll
Steve Frenkel, Executive Director, Chicago Current
Jennifer Gonda, Superintendent, Milwaukee Water Works
Mike Gousha, Distinguished Fellow in Law and Public Policy, Marquette University Law School
Rachel Havrelock, Associate Professor of English and Director, The Freshwater Lab, University of Illinois-Chicago
Jeanne Hossenlopp, Vice President for Research and Innovation and Professor of Chemistry, Marquette University
Sandra McLellan, Professor, School of Freshwater Sciences, University of Wisconsin-Milwaukee
Itay Milner, Deputy Consul General, Consulate of Israel to the Midwest