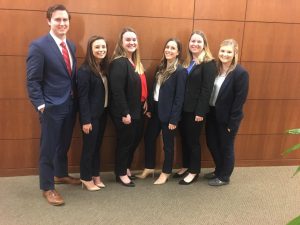 Marquette University Law School hosted the Region VIII round of the 70th annual National Moot Court Competition on November 23-24, 2019. Both Marquette teams made successful showings.
Team members Kylie Kaltenberg, Abby Hodgdon, and Kieran O'Day advanced to the semifinal round before being eliminated after losing by less than one-half point. That team also had the third highest brief score* in the region. Professor Melissa Love Koenig advised the team, which was coached by attorneys Jason Luczak, Brianna Meyer (L'17), and Max Stephenson (L'13).
Brooke Erickson, Micaela Haggenjos, and Kylie Owens advanced to the quarterfinals before being eliminated after losing a close round to the other Marquette team. Professor Lisa Mazzie advised the team, and attorneys Bryn Baker (L'18), Chal Little (L'16), and Nicole Muller (L'18) coached the team.
Our attorney coaches are extremely dedicated and put in many hours of work with our students. We are lucky to have coaches who come back year after year. Our students benefit greatly from working with them. Our teams put in many hours of practice to prepare for the competition.
We are grateful for the time donated by the many judges and lawyers who judged the briefs and oral arguments for the NMCC Region VIII regionals. Moot Court Associate Justice Jake Rozema put in countless hours to ensure the competition ran as smoothly as it did. He was ably assisted by his committee, consisting of John Black, Colin Dunn, Danielle Gorsuch, Tyler Jochman, Peter Klepacz, Darrin Pribbernow, Alexander Sterling, Lucas Tabor, Brandie Tartza, and Caleb Tomaszewski. We appreciate the students who participated as bailiffs:  Alicia Bernards, Suzanne Caulfield, Vanessa Flores, Joshua Kundert, and Daniel Sievert.
The NMCC is sponsored by the New York City Bar and the American College of Trial Lawyers. More than 150 law schools compete across the country.
*An earlier version of this post incorrectly stated the team had the second best brief. They had the third best brief in the Region.