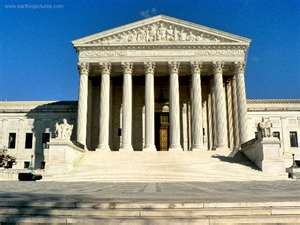 [The following is a guest post from Professor J. Gordon Hylton, a former member of the Marquette Law School faculty.]
Justice Scalia's unexpected death this past weekend has raised the question of how his seat on the Supreme Court will be filled. Some Republicans have already asserted that it would be inappropriate for the president to even place someone's name in nomination during an election year.  Others have more modestly pointed out that the Republicans in the Senate would be within their constitutional function to use their majority power to veto any potential justice that the president might put forth.  Democrats, in contrast, emphasize the president's constitutional duty to fill the slot and reject the idea that the impending election out to somehow stay the process of replacing departed United States Supreme Court rules.
What does the history of the Supreme Court tell us about this situation? As it turns out, in the Court's more than 225 year history, sitting justices have died or retired/resigned from the Court during an election year (or the brief stretch of the president's term in the following year) on twenty occasions.  In 14 of the 20 cases, a new justice was appointed and confirmed before the president's current term ended.  (In 7 of the 20 cases, the sitting president was re-elected, but in none of these cases did the nomination go into the following term.)
However, the story is a bit different when the sitting president's political party does not control the United States Senate. Not surprisingly, in the 12 cases when the president's party has been in control of the Senate, the open-vacancy has been filled 11 times.  The one exception came in 1968, when sitting Chief Justice Earl Warren announced in June that he planned to retire before the end of the year.
Continue reading "Is the Senate Free to Ignore President Obama's Choice of a Replacement for Justice Scalia?"