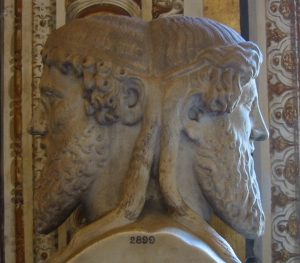 On April 10 I participated in a panel discussion sponsored by the Law School Chapter of the Federalist Society.  The presentation was entitled "Lawyers, Plaintiffs, and Professors, Oh My!: Janus v. AFSCME."  The other panelists were Adjunct Professor and Director of the Law Library Elana Olson, Alumnus Daniel Suhr from the Liberty Justice Center , and Mark Janus, the name plaintiff in the case of Janus v. AFSCME.  What follows are my prepared remarks.
In June of 2018 the United States Supreme Court held, in the case of Janus v. AFSCME, that it is a violation of the First Amendment for State and public sector unions to assess mandatory agency fees to non-consenting employees.  The majority of the Court held that forcing non-union workers to contribute money to support non-political activities which benefit all workers violates the Free Speech rights of non-consenting employees.
In so holding, the Court overruled a precedent of over 40 years, Abood v. Detroit Board of Education, a 1977 case that had upheld the practice against a First Amendment challenge.
Opposition to labor unions and collective bargaining rights is a policy choice held by many political conservatives today, but it was not always the position of the Republican Party.  One of the early icons of the conservative political movement in the United States, Whittaker Chambers, was himself a union member at times in his career, he was supportive of the labor movement, and his wife and many of his relatives were union members.
This icon of political conservatism in the 1950s and 1960s supported collective bargaining rights so much, that when the parent of the conservative National Review Magazine gave an award named after Whittaker Chambers to our guest Mark Janus, in recognition of his participation in the Janus v. AFSCME litigation, the family of Whittaker Chambers objected to their father's name being associated with the case.