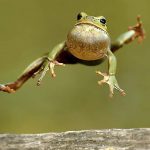 This semester in Professor Lisa Mazzie's Advanced Legal Writing: Writing for Law Practice seminar, students are required to write one blog post on a law- or law school-related topic of their choice. Writing blog posts as a lawyer is a great way to practice writing skills, and to do so in a way that allows the writer a little more freedom to showcase his or her own voice, and—eventually for these students—a great way to maintain visibility as a legal professional. Here is one of those blog posts, this one written by 2L Kelly Owens.
"In Bellingham, Washington, it is illegal for a woman to do what while dancing?" my dad asked the family during a heated game of Balderdash while I was home for the Easter holiday.
For those who might be unfamiliar with the (highly entertaining) game of Balderdash, the game poses questions across various categories to the players, and each player must come up with a convincing answer to attempt to trick other players into picking their answer over the correct one.
During this particular round, the category was weird laws.  And, apparently, Bellingham, Washington, has at least one such law.
No, Bellingham does not make it illegal for a woman to kick her legs into the air while dancing (my mom's answer), but it is illegal for a woman to take more than three steps backward while dancing.  Or is it?
My immediate thought after getting through the round and hearing the answer was, How did such a ridiculous thing become a law?  Better yet, how does one even go about enforcing such a law?  My law student curiosity got the best of me, so I of course decided that this law required some more investigating. Continue reading "It's Illegal to Do What? Strange Laws and Why They Exist"