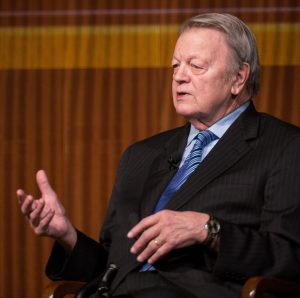 On April 18 at 4 pm Pulitzer Prize winning author Garry Wills will speak at the Marquette University Law School.  The topic of his talk is "Does Democracy Protect Human Rights? Constitution vs. Plebiscite."
The event is sponsored by a grant from the UW Stout's Center for the Study of Institutions and Innovation.
Garry Wills is Professor Emeritus of history and a cultural historian at Northwestern University. His many books include studies of George Washington, Richard Nixon, the Kennedy family, Ronald Reagan, and religion in America. His 1992 book, "Lincoln at Gettysburg: The Words That Remade America," won the 1993 Pulitzer Prize for General Nonfiction and the 1992 National Book Critics Circle Award for Criticism. Wills won the 1979 Merle Curti Award from the Organization of American Historians and the 1978 National Book Critics Circle Award for General Nonfiction for his 1978 book, "Inventing America: Jefferson's Declaration of Independence." Wills has also been awarded the National Humanities Medal, and he was inducted as a laureate of The Lincoln Academy of Illinois and awarded the Order of Lincoln. His most recent book is "What The Qur'an Meant and Why It Matters."
The event is free and open to the public, but advance registration is requested.