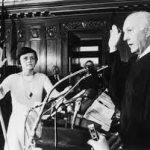 On Saturday, December 19, former Wisconsin Chief Justice Shirley S. Abrahamson, died after battling pancreatic cancer. She was 87. Just two ways she was like another famous, short, tough, trailblazing Jewish jurist: Ruth Bader Ginsburg.
Abrahamson, the daughter of Polish Jewish immigrants who arrived in the United States in the early 1930s, grew up in New York City. She graduated magna cum laude from NYU with her bachelor's degree in 1953. Three years later, she graduated first in her class from Indiana Law School; she was also the only woman.
She met her husband Seymour in Indiana; they moved to Madison in the early 1960s, where Abrahamson earned her S.J.D. from UW Law in 1962. Thereafter, she became the first female lawyer at the Madison law firm La Follette, Sinykin, Doyle & Anderson. She was named a partner within a year. All throughout the time she was in practice, she also taught at UW Law.
In 1976, then-Governor Patrick Lucey appointed her to the Wisconsin Supreme Court' she was the first woman to serve there.