My father, John Van Lieshout, got his J.D. from Marquette University Law School in 1981. He currently practices law at Reinhart Boerner Van Deuren here in Milwaukee. Since it's been thirty-eight years since he walked these hallowed halls as a student, I interviewed him to get the scoop on what law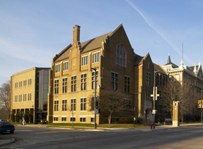 school was like for him. I knew that there would be differences big and small, but I am happy to report that just as he reports feeling great affection for law both in its nature and because of the connections he made, I feel like coming to Marquette was one of the best choices of my life. I hope you enjoy his fond recollections of his time at MULS, whether you are a current student or a former one, and if you are a member of the graduating class of 1981, please feel free to reach out! 
 "The law school used to be six or seven classrooms and a hallway, to put it simply. You saw everyone in that hallway. At that time, there were more women than men, and most of the women did not come directly from undergrad. Many of them had been teachers before deciding to study law. We had contracts, torts, and property both semester one and two. We kept the same sections and the same professors through both semesters, which made the transition much easier. Unlike at Eckstein Hall, our lockers were two feet long and two feet deep; they basically only fit textbooks. There was not room for a winter coat or boots.