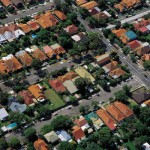 I was interested to see a  discussion on residential racial segregation in Milwaukee on the Political Environment Blog run by former journalist and Mayor Norquist aide Jim Rowen.
I was once absorbed in this debate. As a young associate at Foley & Lardner, I was part of the defense team representing twenty-four suburban school districts who were sued by the Milwaukee Public Schools. MPS sought a metropolitan-wide integration plan. We tried the case for a few months and then it settled on terms largely favorable to the suburbs.
I was in charge of the "housing" case, i.e., our response to the plaintiffs' claim that residential racial segregation (causing school segregation) was caused by discriminatory government practices over a period of fifty years or so. Very heady stuff for a young lawyer still north of thirty.
I have kept up with the issue casually since then but I think that there were three important things that we learned then that are still relevant today. Continue reading "Musings on Residential Segregation"