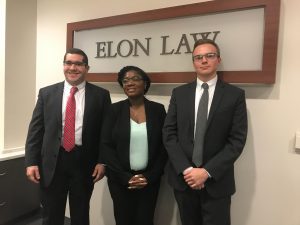 In Marquette Law's first appearance at the Billings, Exum & Frye National Moot Court Competition at Elon University School of Law in Greensboro, North Carolina, three Marquette Law students showed that Team Marquette is a force to be reckoned with.
Luis Gutierrez, Terreea Shropshire, and Nicholas Wanic were one of 40 teams at the competition. Though their brief was not one of the top two in the competition (the only ones awarded honors), they earned a high score that was nearly ten points above the median. Further, they won each of their three preliminaries rounds and advanced to the octofinals.
This competition had a tight turn-around time between problem release, brief deadline, and competition. All three team members stepped up and showed how hard work pays off. Professor Rebecca Blemberg served as the team's faculty advisor and coach. Other coaches were Attorney Courtney Roelandts (L'18), who also accompanied the team to the competition, and Attorneys Jessica Delgado (L'19) and Sarita (Sadie) Olson (L'19), with Professor Lisa A. Mazzie assisting. Thank you, too, to Attorney Greg Helding (L'14), who served as guest judge.
Congratulations, team, on your accomplishments!