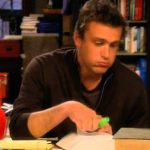 This semester in Professor Lisa Mazzie's Advanced Legal Writing: Writing for Law Practice seminar, students are required to write one blog post on a law- or law school-related topic of their choice. Writing blog posts as a lawyer is a great way to practice writing skills, and to do so in a way that allows the writer a little more freedom to showcase his or her own voice, and—eventually for these students—a great way to maintain visibility as a legal professional. Here is one of those blog posts, this one written by 2L Margaret Johnson.
It's no secret that finals are just around the corner and that studying for finals in law school can be unpleasant at best and excruciatingly painful at worst. While I can't guarantee any of these products will help you snag an honors grade, these are my favorite products for making the studying process more bearable – or at least more productive.
Colored Pens and Highlighters
If you're a pen-snob like me, nothing makes note-taking more enjoyable than a set of colorful pens to brighten up my outline and flashcards. If you're looking for variety of fine-point gel pens that don't smudge, look no further than KACO Retractable Gel Ink Pens. If you prefer pens that write more like a marker, check out the Huhuhero Fineliner Color Pen Set, which includes 10 colorful pens that write smoothly and clearly without smudging.
Highlighters
Highlighters are great for color-coding different types of information in your outlines when studying for finals. Sharpie Clear View Highlighters offer vibrant colors and the clear tip allows you to neatly and evenly highlight across the page without smudging the page or getting ink on your hands.
Notecards
Flashcards are great for rule-based classes like Civil Procedure or Evidence and for writing down case holdings and black-letter law. While writing out holdings and rules is time-consuming, I've found that doing so helps me remember the material that much better than just reading from my outline. Continue reading "9 Must-Have Products to Get You Through Finals"