Our visit with Riman Barakat, a former Marquette Fulbright scholar who has worked in many different Palestinian-Israeli peacebuilding NGO's is always a highlight of the trip.  Student Adrianna Hromadka reflects on the questions and answers of her talk.
East Jerusalem offers a unique type of citizenship. After 1948, East Jerusalem was not included in the Israeli held territory. However, following the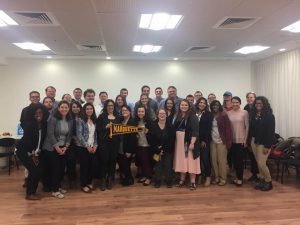 Six-day War, Israel extended permanent Israeli residency to Arabs that were then living in Jerusalem. Others not then residing in Jerusalem were not extended the same right of residency. Today, East Jerusalem serves as the capital of the Palestinian territory. While all of the territory's citizens have Israeli residency, only a small percentage of East Jerusalemites have Israeli citizenship. Without Israeli citizenship, residents can only vote in municipal elections. Additionally, East Jerusalemites can lose their right of residency if they live abroad for more than seven years.
On our fourth day of the trip we got to dive deeper into the complexity of East Jerusalem. We had the opportunity to have a discussion with Riman Barakat, the CEO of Experience Palestine and a social activist. Barakat is an East Jerusalem citizen that has played a significant role in the peace movement in the East Jerusalem community. Barakat spoke about the importance of building bridges between the different communities for the betterment of Jerusalem as a whole. Read more »