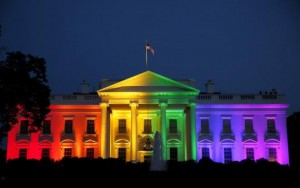 Today marks the beginning of the United States Supreme Court's 2015-2016 Term, and coincidentally it also marked my participation in an annual event at the Marquette University Law School entitled "Supreme Court Roundup."  Along with Cato Institute Scholar and Supreme Court expert Ilya Shapiro, I was invited by the Law School Chapters of the Federalist Society and the American Constitution Society to share my perspective on three cases from the Supreme Court's docket last year.  The cases we discussed included Obergefell v. Hodges (the "Gay Marriage case"), King v. Burwell (the "Obamacare case") and Yates v. United States (the "fish case").  Thanks to the law students for the invitation and a special thank you to Mr. Shapiro for his participation.  What follows are my prepared remarks on the Obergefell case.
I call this case "Thurgood Marshall's Revenge."
In Obergefell v. Hodges, the Supreme Court held that state laws denying marriage licenses to same sex couples violated the Equal Protection Clause of the United States Constitution.
Justice Kennedy's majority opinion in Obergefell is notable for what it does not talk about. The majority opinion does not rely upon the theory that marriage is a fundamental right and that therefore state laws infringing upon the right to marriage must be subjected to strict scrutiny. Nor does the majority opinion rely upon the theory that homosexuals are a suspect class, thereby subjecting state laws that treat homosexuals different than heterosexuals to strict scrutiny under the Equal Protection Clause.
The methods by which the Court has traditionally determined whether to apply heightened standards of review to legislative acts – strict scrutiny, intermediate scrutiny, heightened rational review – are what are known as "heuristic devices." These are artificial aids to problem solving. The Constitution does not use the phrases "strict scrutiny" or "suspect class," but by creating artificial rules that group cases under these headings, the Supreme Court has developed a methodology for defining the outer boundaries of state policing over individual freedom.
Instead of using the Obergefell case as an opportunity to develop and clarify how the concepts of strict scrutiny and suspect class inform the Court's interpretation of the Constitution, the majority opinion simply ignores these heuristic devices altogether. In doing so, the majority seems to be belatedly embracing the view of Justice Thurgood Marshall in a 1973 dissenting opinion. (more…)