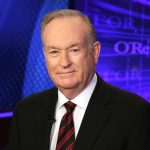 Yesterday, Fox News ousted Bill O'Reilly, who for two decades was the top-rated host with his show, The O'Reilly Factor. O'Reilly's blustery on-air persona—which inspired Stephen Colbert to create ultraconservative pundit Stephen Colbert on the Colbert Show—minced no words, ever.
As a result, he often said outrageous, offensive, if not downright inaccurate things on the air. For example, he said that the slaves who built the White House were "well-fed and had decent lodging provided by the government." He called child hunger "a total lie," and said that feminists should not be allowed to report on Trump "because Trump is the antithesis of" feminism. He's also been known to make inappropriate comments to women on the air.
O'Reilly's personal conduct (like that of his former boss Roger Ailes before him) apparently has been similarly offensive. Over the course of his time at Fox News, O'Reilly has been accused of sexual harassment and other inappropriate behavior involving both women at the network who worked for him and women who appeared as guests on his show.