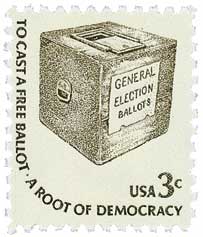 I have been working on elections since 2000, when I helped organize a team to defend a potential recount of Wisconsin's narrow victory for Al Gore (never happened; see Bush v. Gore).  Since 2004, I have trained thousands of attorneys to observe at polling places to ensure every eligible voter is allowed to cast a regular ballot.  That is, and should be, the only goal of our election laws: enfranchisement!
In 2005 I testified before Congress about Wisconsin's voting laws, the lack of any actual voter fraud, and the many real administrative problems caused by running a national election in one day.  In subsequent years, I helped compile reports of Election Day issues, defended individuals accused of voting irregularities, and was part of the GAB committee to create formal rules for observers.
So, I have some background in election law.
To put it mildly, I was surprised to hear a candidate for President state: "Voter fraud is very, very common."  Not just common, but VERY, VERY common.
The statement, if meant to suggest rampant fraudulent voting, is categorically false.  Fraudulent conduct by voters is exceedingly rare.  A comprehensive study published in 2014 confirmed 31 cases of in-person voter fraud from 2000 to 2014, out of more than a billion votes.  In stark numerical terms, that is one act of fraud for every 32 million votes.  When defending Wisconsin's harsh Voter ID law, the State "could not point to a single instance of known voter impersonation occurring in Wisconsin at any time in the recent past."  Frank v. Walker.  In other words, voter fraud is very, very, very uncommon.
There is, however, an election fraud that has become common in the past decade: the suggestion that voting laws need to be tightened to combat voter fraud.  This is the BIG LIE. It has been used across the country to justify a stunning array of laws designed to make it harder to vote.