On our first full morning in Tel Aviv, we turned to some (other) hard issues facing different parts of the population in Israel. Our first speaker was Mazal Bisawer, a PhD candidate and student leader at Tel Aviv University. Mazal spoke to us about the Ethiopian population in Israel—a minority within a minority—most of whom immigrated to Israel in the 1970's and 1980's. We've had visits with other Ethiopian Jews over the years (see blogs from 2017 here and 2015 here) dealing with the issue of diversity in Israel. And even on the main street in Tel Aviv, the concept of refugees is front and center with this beautiful mosaic: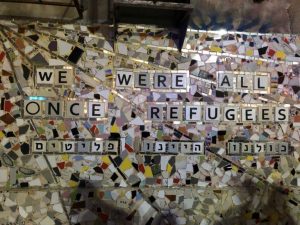 Shayla Sanders identified with Mazal's comments:
She spoke broadly about police brutality against young Ethiopian men and emphasized that while only 2% of the population in Israel, Ethiopian young people make up 60% of the population in juvenile detention facilities. I was struck in this moment with a sickening, yet somehow validating sense of déjà vu. I recognized these statistics. I know that African Americans in the US face a similar plight. In hearing her speak to some of these issues, I heard some of the same emotions I myself experience when discussing racial issues here in the US. I heard in her the same passion I feel when discussing instances of injustice against my people. I heard her pain when she told us how people would say that Ethiopians should feel lucky to only be experiencing minor levels of racism because they are the only group of black people not brought by force into a country and compelled into slavery. I felt her frustration when she emphasized that speaking out on these issues, she is often met with the same reaction as if she had stated a belief in little green aliens and UFOs… I have myself been written off as a radical idealist who plays the race card all too frequently. I have been faced with those who would rather police my tone than address and confront the truth in my statements. So, imagine my utter lack of shock when our very own tour guide immediately dismissed Mazal as radical and gave an open invitation to our tour group to take her opinion with a grain of salt not granted to any of the other speakers we had seen thus far.
Continue reading "Israel Reflections 2019–Immigration, Racism, & Refugees"