Annual Boden Lecture: James B. Speta
THURSDAY, SEPTEMBER 22, 2022
4:30 P.M.
Ray and Kay Eckstein Hall
1215 West Michigan Street
Milwaukee, Wisconsin
Complimentary parking is available on site.
1 CLE Credit
James B. Speta
Elizabeth Froehling Horner Professor
Northwestern University Pritzker School of Law
THE PAST'S LESSONS FOR TODAY: Can Common-Carrier Principles Make for a Better Internet?
Proposals abound to "reform" the internet. Some of these speak directly to concerns that Google, Facebook, Twitter, and other platforms engage in bias and discrimination, in choosing among sources, users, news feeds, and results. Yet consensus is elusive on defining that bias, and many of the proposed reforms almost certainly would violate the First Amendment. Can we look to the law's past for a path forward? America's original paradigm of regulation—developed for railroads, telephone companies, and other "common carriers"—successfully prohibited a provider's discrimination among users. This lecture will describe how policymakers might adapt and adopt parts of common-carrier regulation to make the internet platform ecosystem more robust and diverse, ensuring (for just one example) that alternative platforms such as Parler would not be thwarted. It will also consider whether our law and policy are capable of the judiciousness that this approach would require.
Jim Speta is the Elizabeth Froehling Horner Professor at Northwestern University's Pritzker School of Law, where he has served on the faculty since 1998 and also held a number of administrative posts, including as interim dean in the 2020–2021 year. His research interests encompass telecommunications and internet policy, antitrust, administrative law, and market organization, and his publications include the textbook Internet and Telecommunications Regulation (2018) (with Stuart Benjamin). Prof. Speta's teaching has extended to programs with Northwestern's Kellogg School of Management and McCormick School of Engineering. A graduate of the University of Michigan Law School, where he served as editor-in-chief of the law review, Speta clerked for Judge Harry T. Edwards on the U.S. Court of Appeals for the D.C. Circuit and is an experienced practitioner in appellate, telecommunications, and antitrust law.
This annual lecture remembers the late Robert F. Boden, dean of Marquette Law School from 1965 to 1984.
Questions?
Jourdain LaFrombois, Events Coordinator, jourdain.lafrombois@marquette.edu, 414.288.6452.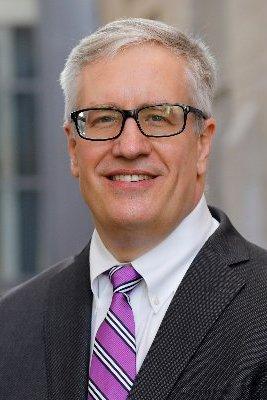 Category
Current Students
Faculty & Staff
Marquette Lawyers
Community