30th Annual Do-Gooders' PILS Auction
The Public Interest Law Society invites you to the 30th Annual Howard B. Eisenberg Do-Gooders' Auction
Friday, February 17
Join us from 5:00 to 9:00 p.m. at Eckstein Hall (Marquette Law School, 1215 West Michigan Street)
Substantial appetizers, soft drinks, and two drink tickets will be provided. A cash bar will also be available throughout the evening. Law student and recent graduates (2020, 2021, and 2022) ticket price is $25 (including one guest) and for all others $40. Event ticket prices will increase on February 3. Please purchase your tickets early.
You don't need to attend to bid and win. Silent Auction bidding will start on January 12, 2023 and end at 7:00 p.m. on February 17. Once bidding opens new items will be added weekly.
Ways to support this year's Auction:  
Place your web-linked logo on our Silent Auction webpage for $50. Every time guests bid, they will notice your ad indicating support.
Donate an item for silent auction. Fill out the donation form HERE.  Popular auction donation items include art, entertainment, and sports packages, as well as child-themed baskets.  We request that auction items be delivered by February 8.
Bid often on fantastic experiences and items.
Fund a fellow. A PILS Fellowship provides support of $4,800 - consider making a $4,800 donation and changing a student's life through a public interest summer placement. Or give a gift of any amount – it will all add up. To give an on-line gift click HERE.
Questions? Please contact Christine Wilczynski-Vogel, Associate Dean for External Relations, Events, and Facilities at 414.288.3167 or christine.wv@marquette.edu
"DO WELL AND DO GOOD"
Howard B. Eisenberg, Dean and Professor of Law (1995–2002)
The auction is named in memory of Howard B. Eisenberg, dean of the Law School from 1995 until 2002. Dean Eisenberg remained committed to providing legal services to people in need throughout his distinguished career. A role model for attorneys and students, he encouraged everyone to "do well and do good." With your help, the Public Interest Law Society (PILS) is honored to continue serving people in need through its student fellowships.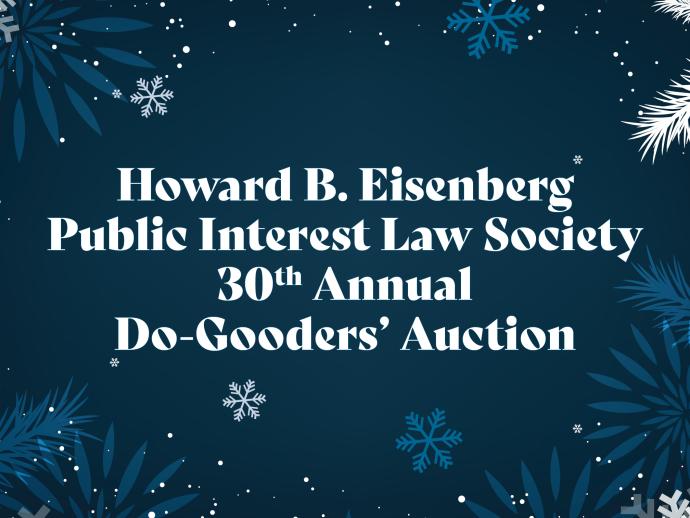 Category
Current Students
Faculty & Staff
Marquette Lawyers
Community